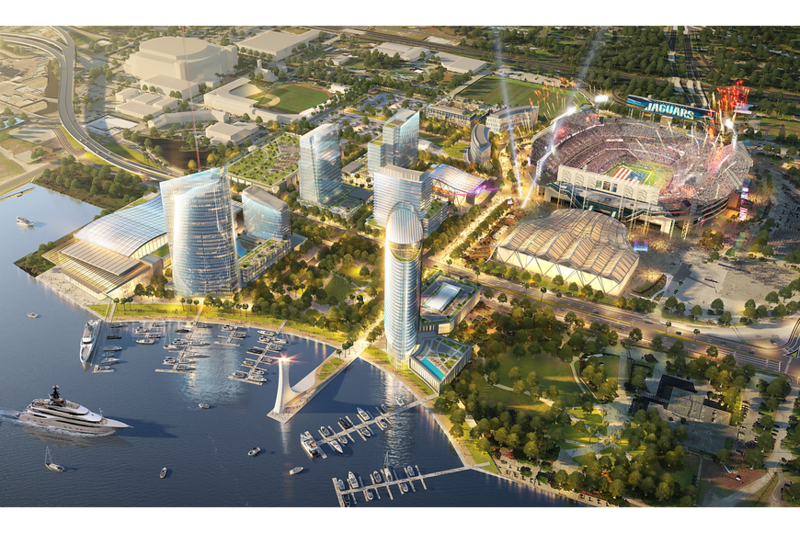 The Jaxson Magazine
Jacksonville City Council on January 12 defeated a hotly contested deal to provide taxpayer-funded investment to the Lot J development project. The council voted 12-7, one vote short of the 13-member supermajority required by the council's rules to pass the legislation.
Most young people don't pay much attention to local development projects, but according to Ennis Davis, a city planner and contributer at The Jaxson, they should.
Referring to the numerous development plans for downtown Jacksonville in the works right now, he said, "I believe these have a great impact because they create an atmosphere with a variety of things for people of all ages to do. This includes everything from parks, special events and festivals to retail, places to eat, rooftop bars and live music venues."
Davis also said that these developments could decrease dependence on vehicle ownership, since they would be walkable and bikeable, and would encourage the use of public transportation.
The Lot J plan would have used $445 million to develop offices, apartments, and a hotel in what is now a parking lot near TIAA Bank Field. It would have required $218-233 million dollars in direct spending or loans from the city, which they planned to offset primarily by taking on debt and offering property tax rebates.
One council member, Finance Committee Chair Matt Carlucci, a Republican, expressed hope for the project in the beginning, as well as concern, saying in October, "My initial impression at first blush — I still have a lot more work to do on it — I thought it looked good. It's a lot of money. I want to know how we're going to come up with that money, period."
Proponents of the deal, including Mayor Lenny Curry, argued that it could revitalize downtown, as well as incentivize the Jacksonville Jaguars to stay in town. Carlucci emphasized the economic importance of the Jaguars, saying, "We must never lose the Jaguars in Jacksonville, and whether Lot J is one of those things that must happen to keep the Jaguars, I don't know."
Ultimately, the deal was defeated, with seven members including Carlucci and Council President Tommy Hazouri, a Democrat, voting against it.  Mayor Curry expressed his regret, tweeting, "The legislative body spoke and unfortunately Lot J will not move forward."
According to Matt Carlucci, one of the main problems plaguing the deal was a lack of transparency. He said, "Nobody has provided us anything on what these actual hotels and apartments will cost per square foot, but we are spending a whole heck of a lot of money and we don't know any backup information to justify what we are spending. I just think it ought to start over. I think it's time to just pull the plug on it. The will of the community is just not there."
Democrat Councilman Garrett Dennis called the result a win for taxpayers, saying, "I wasn't going to support any high profile project if the taxpayers were getting screwed in this project, and in this deal, they were getting screwed."
Since the failure of the Lot J deal, Shad Khan is advancing a new $535 million project to build medical, residential, and office developments, as well as public parks and a Four Seasons hotel, in Jacksonville's Metropolitan Park and the Shipyards region. Unlike the Lot J plan, for which Khan partnered with Baltimore-based The Cordish Companies, this project will be developed solely by Khan and his subsidiary companies. Also unlike Lot J, which was negotiated with Curry's administration, the new plan will be considered first by the Downtown Investment Authority before going to City Council, and asks for a smaller $151.2 million in public investment.
Jacksonville Jaguars president Mark Lamping expressed hope for the project, saying, "I'm sure there are many others that want to invest in Downtown. We haven't seen a lot of them, particularly in and around the sports complex, but maybe this will spur people to do projects Downtown and put money where their mouth is… I know Shad's prepared to do that."