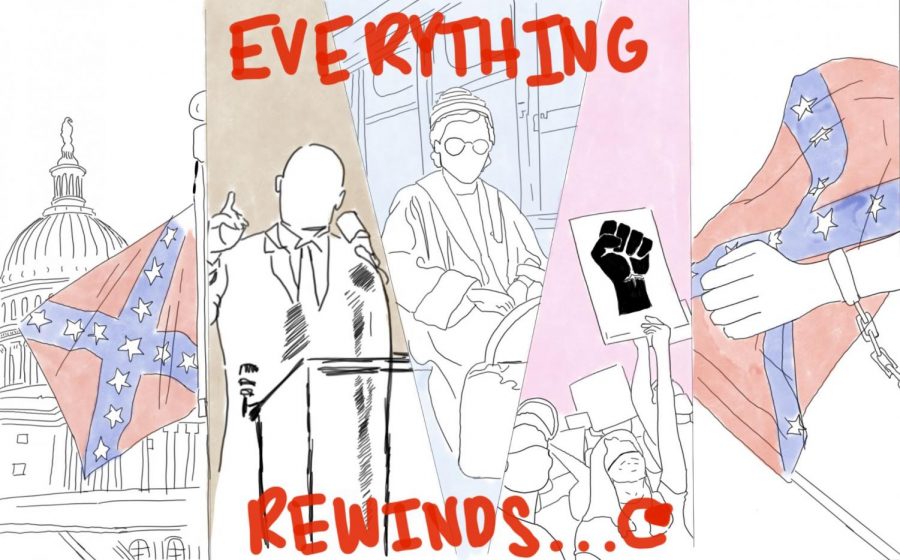 The Stars and Bars with 13 stars was in use as the offical flag of the Confederacy from 1861-1863. The flag most people associate with the Confederacy is the Battle Flag of Northern Virginia, most popular as a symbol after the Civil War.
It has often been adopted as a sign of independence or defiance, often without historical context, said Karen Cox, professor of history at the University of North Carolina-Charlotte. The confederate flag represents the malicious intentions of the slave owners in the south to keep slavery. The flag is the remains of the unprogressive minds of those wishing to discriminate based on race and the color of one's skin.
The old Confederate ideals coming to the capital of the country of freedom makes all the efforts of those that have fought and are fighting for the past 200 years seem futile.
With the current events in the Capitol, the once forgotten relic of cruel US history was brought back to citizens' minds. The appearance of the Confederate flag in the Capitol, a representation of freedom and racial equality, brought about widespread outrage.
Confederate Flag Sales:
The flags can still be found at independent shops selling higher-end versions, websites with cheap imported flags, flea markets and from smaller makers.
Since 2015, stores in Alabama have sold an average of 800-1000 Confederate flags a year.
Demand for Confederate flags at Chris Ackerman's Civil War memorabilia shop in Pennsylvania has surged since violence at a white nationalist rally in Virginia reignited the United States' debate over race and the legacy of slavery.