Lieb explores Rennes and their future
Zoë Lieb ('23) sat in a cafe on the streets of France, people-watching while eating Lebanese takeout with some of their closest friends, who had been mere strangers to them just a few weeks prior.
On July 10th, Lieb travelled to Brittany, France, to study abroad with the Council on International Education Exchange (CIEE). They stayed in the city of Rennes until coming home on August 8. While there, Lieb studied French language and culture in a classroom for three hours every weekday, then had various activities and trips in the afternoon, combined with plentiful free time to explore the city of Rennes.
Along with learning French, however, Lieb also gained life experience from the trip.
"It was definitely a big lesson in independence, especially being in France with all this freedom and all this trust that you would be where you need to be on time, that you'd stay safe and you'd be responsible," Lieb explained.
This was their first time travelling without their parents, and they thrived living in France.
"I'm a very adaptable person so I found it pretty easy," Lieb said. "it was just like adapting to a new set of rules anywhere you go."
Lieb also found beauty in living the French way of life. They recalled one specific memory when dining with their friends.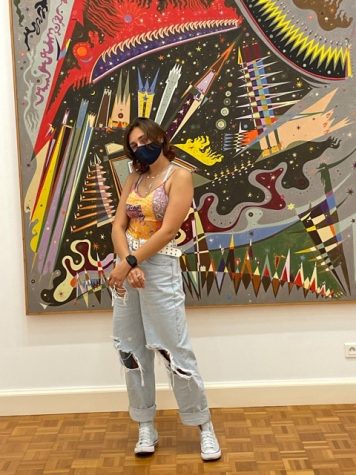 "We were sitting outside in a little cafe on the street of Rennes, and we were watching people walk up and down and go about their daily life." Lieb described.
"It was really just a moment for me like, 'wow, I'm really, really, really happy right now. Like, I really am at peace with myself'."
The experience of freedom of living was so enriching for Lieb that they can still picture being back in France.
"It's just being there and feeling all the senses…the smell of outdoor fresh air, the conversations, and then the people I was with," Lieb reminisced. "I'll just never forget it."
This month-long trip opened doors for the possibility of a much more permanent home for Lieb.
"As I get closer to the college admission process and start thinking about where I want to go, I really find myself looking at colleges in Europe," Lieb confessed. "I find myself really trying to make that a reality."
Even now, months later, Lieb still feels a uniquely strong and emotional impact from their study abroad experience: hope for the future.
"I think the biggest takeaway was that France is attainable. This dream is something that I can have and I can work for."
Isabel Bassin, Contributing Writer
Sophomore Isabel Bassin is a second-year staffer and writer. Her favorite subject is French, as she enjoys learning about a different language and its many influences on different cultures. A lacrosse player who is able to recite the first 100 digits of pi, Isabel hopes to study journalism or political science in college, and in the future she hopes to finally get a dog.