Halloween is a day for trick-or-treating, candy, and fun that many look forward to for months. For the kids visiting Bolles from the Sanctuary on 8th Street, the Community Connections Halloween Carnival is a place to experience all those things in one place. 
The Community Connections Club at Bolles works with the Sanctuary on 8th Street, a local organization centered around providing opportunities to youth and families in need. "Once a month we organize an event with [the Sanctuary] and they come to our campus," explained Ms. DuChanois, one of the club's sponsors.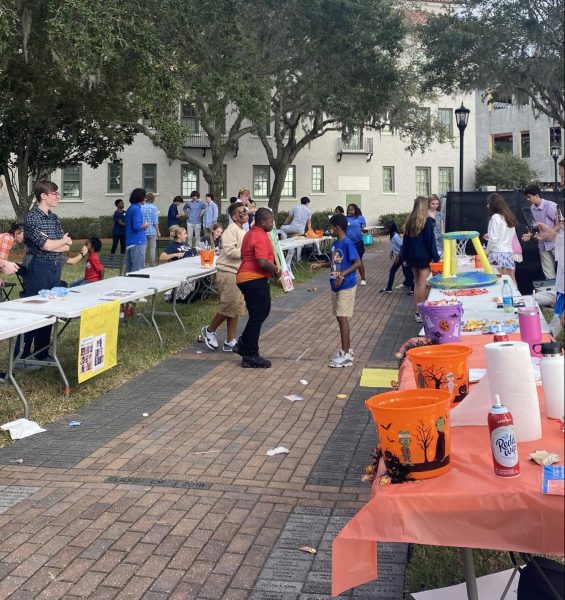 "This is my second year as faculty sponsor of Community Connections, but I've been connected to Sanctuary on 8th Street for many, many years," said DuChanois. In the Sanctuary's early years, DuChanois worked as its first homeschool teacher for about five high school students. Today, the Sanctuary's focus is on after-school and summer programs.
The event was held on Wednesday, October 25, a week before Halloween. While Community Connections has its own relationship with the Sanctuary, they worked alongside several other clubs and student organizations to set up the carnival with booths full of activities for the 43 elementary and middle schoolers who visited.
The booths were each set up by a different club, with games ranging from trivia and coloring to pieing upper school students in the face—and of course, each table had lots of candy for the kids.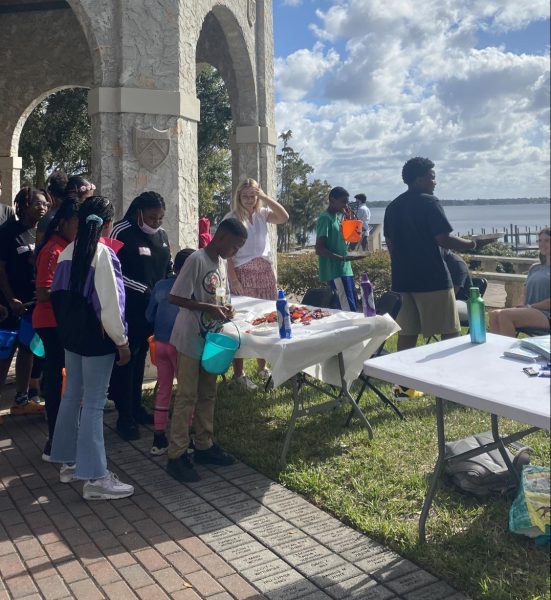 "It's a lot of candy. A lot of sugar," responded six-year-old Davon when asked about his favorite part of the event. "And this place is a really cool high school and it feels like a roller coaster. I just love coming to the school. It's like the best high school ever."
For the students and faculty planning the carnival, the event isn't just about the games and candy. 
"The more fun activities we can provide the better," said Coach Angie, who has been a staff member for the Sanctuary on 8th Street for around three years, working with the kids during after school programming and the six-week summer camp. "This was a perfect opportunity to take [the kids] to do something fun on a day that normally kind of drags on with other things like homework help, yoga, coding, arts and crafts."
"But I think it's also important for them to see a high school, to see the types of places they might want to imagine themselves in the future," she said. 
For the upper school students who volunteered, the Carnival was just as important: around 100 Bolles students helped create the experience. "They were enjoying it just as much," said DuChanois. 
"This is an important event to show kids what it's like to be a leader," explained Anjali Gusani '25, who volunteers with the Sanctuary every week. "And to inspire, you know, they want to be us and they want to be leaders. We had it done for us and they'll do it for others, pass it on."