The Bolles School Sharks made a strong appearance at the 2023 Junior Worlds Swimming Championship in the first week of September. Junior Worlds acts as a stepping stone to higher level meets like Worlds and the Olympics for athletes 14-18 years old. 
The six Bolles athletes who attended the meet had to qualify individually for their home countries' teams. Antione Destang '25 and Tristan Dorville '25 represented Saint Lucia, Lucero Mejia Arce '26 represented Guatemala, Riley Miller '26 represented the U.S. Virgin Islands, Shehani Venturi '24 represented Sri Lanka, and Eldad Zamir '25 represented Israel. 
The swimmers made connections with athletes and coaches from 93 countries across the globe, while exchanging swimming experiences and advice. 
"It was really neat having all the other countries there, and just being able to talk to the coaches and the athletes," Head Coach Peter Verhoef said.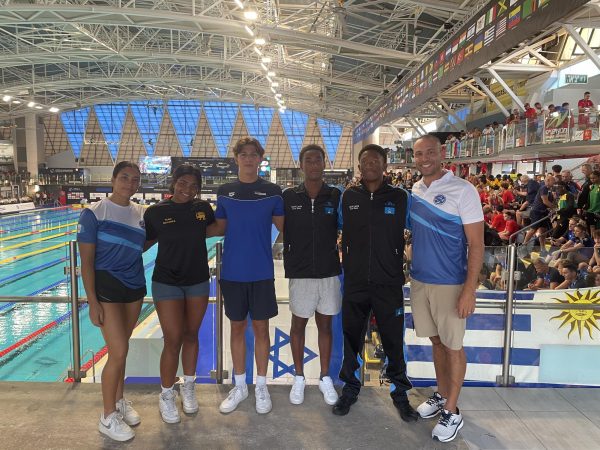 The preparation for Junior Worlds began in the spring of 2023. "That gave us a starting point of getting together to stay in shape,"  Verhoef said. "We wanted to cover certain things, whether it's team culture, or just connection points."
Following the team's arrival in Netanya, Israel, the Bolles athletes were able to quickly adjust to the environment. "It was really neat, because you would go to the pool, everybody's swimming and you would be in the hotel with New Zealand, Italy, Israel, Sri Lanka, Team USA, and the Australians," Verhoef said. 
The diverse teams traded stories and advice. Verhoef believes that the common denominator of swimming and being together in this environment made the experience memorable.
"It's always fun to make those connections and find those people because those are all people who we connect easily with," he said. 
As the meet was 6 days long with both prelim, finals, and time trial sessions, Verhoef had to come up with ways to help the athletes rest and prepare for individual races. "You could be swimming the equivalent of 16 practices in a row," he said. So he had to devise specific schedules for each athlete, depending on the timing of their events, to allow them time to recover and ensure they were prepared to be competitive at each session. 
For many of the swimmers from Bolles attending Junior Worlds, this meet was considered a mid-season meet, meaning that the team is in the middle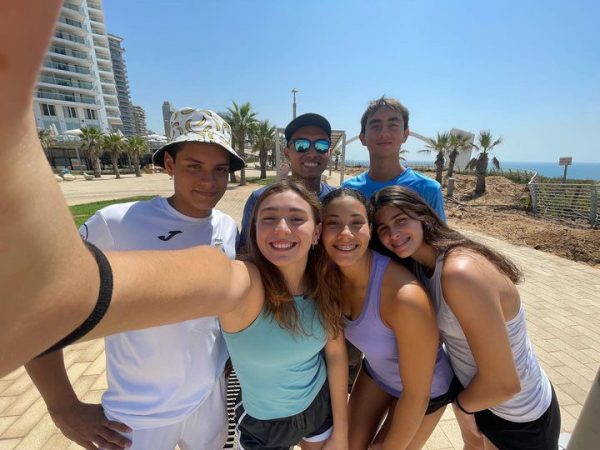 of their training cycle. However, the attending six athletes still did their best to show up and perform at their best, regardless of the challenges of swimming mid-season and not being at peak performance. 
All the athletes would agree that competing at the international level is very different from swimming at the high school level. Tristan Dorville '25, representing St. Lucia, said, "I take a lot of pride in swimming for my country, and I make sure that whatever I'm doing for my country I'm doing to the best of my ability."
Coming from the Commonwealth Youth Games and still adjusting to boarding at Bolles, Dorville was excited to see how he would compete at Junior Worlds. In between sessions, he made sure to fuel his body and stretch to keep his muscles loose throughout the competition. 
Verhoef highlighted the importance of resting your body throughout meets such as Junior Worlds. "Even if it's light practices, it's still a lot of work and mental load on the body to neurologically keep going, so I thought we did that really well," Verhoef said. He was able to give the swimmers tools to use in order to remain fresh between long sessions. 
Eldad Zamir '25, focused on hydration, staying away from sugar, and "sleep. A lot of sleep." Zamir gives much credit to the naps he took in between sessions, which allowed him time to reset.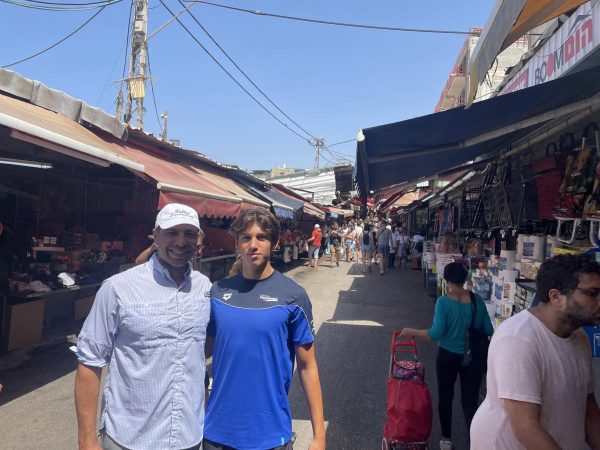 Zamir is from Israel, and so he was able to compete in his home country with his friends and family watching. "The support was crazy and the cheering was amazing," Zamir said. Junior Worlds was his first international competition, and so he used this meet to get used to the high-energy environment so that he can look forward to competing in more high level meets around the world.
Lucero Mejia Arce '26, representing Guatemala, described her goals going into the meet. "I was looking towards improvement and having fun overall because I was meeting with my teammates again," Mejia Arce said. She has competed in a number of international swim meets, and so she was able to pour her focus into her individual events and race with her teammates, with whom she is very close. 
For Mejia Arce, this meet was both an opportunity to drop time and improve her racing techniques. She anticipated one event in particular. "We also had relays which I hadn't had in a long time. It was really fun to do that again." Relays are a great way to both cheer on and race her teammates, she said.
"I have images in my head of being in the environment, watching some of the some of the high level athletes and what they're doing," Verhoef said, "and then working to see what we can do to get our athletes here at Bolles to that level."