We Will Miss You, Mrs. Meatte!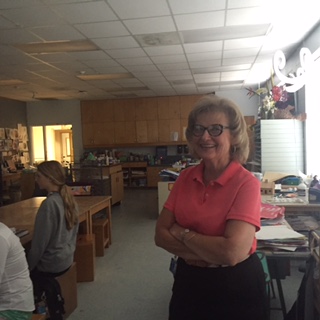 Mrs. Meatte, the elementary school, art history, and foundations teacher has been the core of the art department for twenty years here at Bolles.
After two decades of inspiring students here to embrace and thrive in the arts, Mrs. Meatte is retiring on a high note. She has always had a passion for the arts, starting as early as elementary school. Her favorite project throughout the years was the portrait of Bolles Hall done by second graders. She described it as " pain and pleasure at the same time", because while the result was often beautiful, it was a very detail-oriented project for second-graders.
Her proudest accomplishment here at Bolles is "lighting a fire under students to inspire them to enjoy art history, to embrace that."
Originally, Mrs. Meatte wanted to be a fashion designer, however a conversation with her father about the competition involved in being a fashion designer drove her on a different path.
Once in college, she set out to get a degree in the arts major. After taking an art history course, she discovered that she had found her true passion. She got a job incorporating art history, and part of it involved sending rejection letters to PhD's in art history, so she decided it was time to refocus her path.
"I loved children, so I did a student teaching thing and I immediately went for that." said Mrs. Meatte.
She summed up her career here at Bolles as this, "It's been wonderful. The first day I walked in as the elementary teacher and I said I am in art teacher heaven, and I've felt that ever since. I have amazing students, I work with very professional faculty, the administration is very supportive and I have a very generous budget. I like Mr. Farace, and I feel like he has a genuine love of the school."
Technologically, says Mrs. Meatte, Bolles has advanced a great deal. "I started here in '96 and I'm trying to think if I even had a desktop at that time. It (technology) just exploded. I was using carousel projectors. I fought digital for a long time but once the projectors started improving and we got really clear images I switched. Technology has revolutionized my teaching. I'm an old bird, and we don't adapt to well to changes, but when you're in a position like this you have to."
However, while she values technological change,  Mrs. Meatte says one of the things she loves most about Bolles is the longevity of the faculty. This shows, says Mrs. Meatte, that "It's a good place to work, and it's a good thing for the kids."
Mrs. Meatte's tremendous influence on her students has been demonstrated time and time again through their success and passion for the arts. Some of Mrs. Meatte's students have gone on to be curators in art museums and work in universities. Others have double majored in art history and another subject, and have chosen a different career, however still maintain the love of art history instilled in them by Mrs. Meatte. Amy Song (16), the salutatorian, wrote about art history in her application letter to Harvard, a feat that Mrs. Meatte described as one of the highlights of her career.
Children and teachers alike love Mrs. Meatte, just as much as she loves them. Julia Butler (19) said "She's a great art teacher. Her lessons are thorough and she has a lot of experience as an artist. She helps her students reach their full potential in her classes. She understands students and our academic load, so the tests, quizzes, and homework(if we have any at all) is very light,  reasonable, and manageable."
Kelly Mas (15) said, "I had her as my teacher from kindergarten until fifth grade, and then I helped her in art camp for two or three years in middle school, and she was always the sweetest person. She was always thinking of the students and helping them."
"Helen Meatte is the kind of teacher that students return years later to tell that she made a difference in their lives for the better.  She is absolutely dedicated to her students and making sure that receive the best Art/Art History education possible.  She often brings in treats for her students and is ever available to them for extra help.  She is an expert in her field and–while I am completely confident in Mr. Dickson, who will be taking on the Art History/AP Art History classes, and Mrs. Gonzales, who will a taking on the Studio Art classes–Mrs. Meatte is irreplaceable." said Mrs. Rippel.
Mr. Fritton said, "Mrs. Meatte will be missed tremendously.  The gift of her talents and her teaching at The Bolles School has influenced so many lives over the years. She will truly be missed."
She will be missed in part because of her sunny outlook and appreciation of others. Meatte's teaching career has been punctuated by many small moments of happiness."I have lots of little highlights. I get them when I get a note or an email from a student saying how much my class meant to them and that some of them choose to major in art history and it reinforces my love of the subject and encourages me to inspire." said Mrs.Meatte.
Her final advice to students is this: "Appreciate how fortunate you are to be in an environment that this school provides. That sounds really hokey but I've been in so many educational environments that this school I amazing. There are so many opportunities in everything. I think that there is a lot go support here too, I think the advisor system is very special. A public school doesn't have it in their budget. I think as a kid you only see how much work you have to do, but you're going to get a really top notch education here. You leave here, you are set. You can do anything."
As the school year draws to a close, Meatte finds herself considering what retirement will be like. She wonders if, after so many years of identifying as a teacher, if she'll need to work to create a new role for herself in life.
"I woke up this morning thinking, 'oh shoot, I won't have to get up at 4 every morning."" said Meatte. " And then I thought oh, I was going to miss it too. This is what I've done. This is who I am. It's hard. I'll have to establish a new identity. I have four beautiful grandchildren, I'll have to put my energy into them."