Diving into a date with a book
In a small bookstore, with books piled up to the top of the ceiling and shelves overflowing containing new novels to read, one small corner at Chamblin's Uptown gets overlooked.
A recent initiative, started by employee Louise Lee, is known as the "Blind Date With a Book."
According to manager of the Chamblin's Uptown location, Cäri Hamoui, this small feature that was recently added to Chamblin's is often left unnoticed, at least until customers make their way to the checkout line and discover the small basket containing books wrapped in brown paper, waiting to be discovered by adventurous clientele.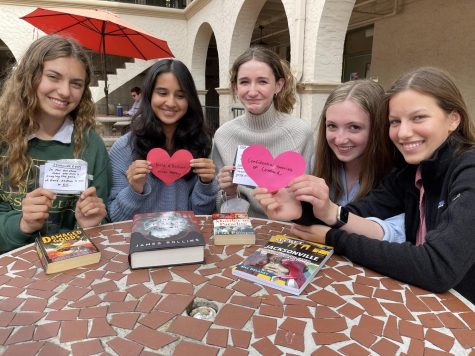 "Although many of our customers usually buy these books as kind of an impulse purchase, they all seem to really enjoy the books," Hamoui explained. "The wide variety of genres and authors allow for just about anybody to pick up a book and enjoy it."
Despite the fact that the brown paper packaging conceals the various titles and intricate covers of the books, a small description is provided for customers to browse through, allowing them to choose from a large range of books, containing both nonfiction and fiction texts.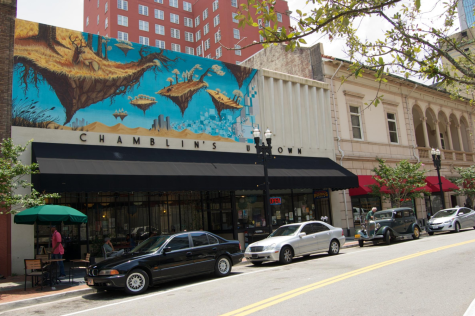 However, the idea for the "Blind Date with a Book" didn't just suddenly appear. "We actually originally started this whole thing out of an act of desperation. We had too many books that weren't getting sold, and after being inspired by smaller, independent bookstores, we decided to try advertising it as a 'blind date with a book,'" Hamoui stated.
Eventually, as the "Blind Date with a Book," initiative caught on, Chamblin's began expanding the number of books offered in the program. Hamoui added that the program was designed in order to encourage people to spontaneously pick up a book and relax in one of the small reading areas scattered around the bookstore. "We try to make Chamblin's feel like a home. We even play soothing music and our staff are always trying to help customers find that perfect book."
"Chamblin's is just this amazing place where you could spend days here. With the amazing staff, cafe, and literally millions of books to choose from, it truly is one of the most unique bookstores," Hamoui added.
Simran Naval, Design Editor/Academics Editor
Simran Naval is a junior and second-year staffer and Bugle's Design and Academics editor. If she was a flower she would be a daisy and she can't live without chocolate chip cookies. She is proud that she works well under pressure and she hopes to become a better interviewer and thinks tea is disgusting.
Megan Howard, Social Media Editor
Megan Howard is a senior and the Bugle's Social Media Editor for her second year. As the co-chair of the Homecoming Committee, Megan is active in numerous school activities, and when not in school, she enjoys cooking (namely copycat Chick fil A Chicken Minis) and taking long baths. She loves history and psychology for their insights on how and why humans are the way they are and hopes to study both in college.