Raising the Barre
Why Pure Barre is for everyone
As I move my wrist weights to my ankles and desperately run to my water bottle, I wonder why I even signed up for a Pure Barre Empower class in the first place. After 45 minutes of non-stop cardio and sweating, my heart beat slows and endorphins fill my body. This feeling of accomplishment and relief always makes the effort worthwhile.
After I quit organized sports, I opted for solo gym workouts. I often found myself bored, unmotivated, and overwhelmed with all the equipment at the gym. I missed working out in an environment surrounded by supportive peers and motivating coaches.
I then stumbled upon a voucher for a free class at Pure Barre Julington Creek. So, I forced myself out of bed at 5:30 am and attempted, I mean attended, a Classic class. Instantly, I was hooked.
However, I am not the only member of the Bolles community hooked on Pure Barre.
When not teaching Spanish or Yoga, Senora Stam finds herself teaching at Pure Barre. Stam started out as a client for two months before she was approached about teaching. Now, Stam has been teaching for seven years.
Stam was drawn to Pure Barre after feeling like she needed a more effective burn from her workout that she was not receiving from Yoga.
"I love how mentally and physically challenging Pure Barre classes are," Stam explained, "And that I have to really focus on me when I'm taking the workout. I can't be distracted by external factors."
Pure Barre offers group fitness workouts that are challenging, fun, and effective. Based on the techniques of ballet and isometric exercises, Pure Barre entails a full body, high intensity, low impact workout that will make you sweat.
All locations offer three primary class styles: Classic, Reform, and Empower. Classic utilizes double tubes, hand weights, and a small ball during a 50-minute full-body workout.
Classic was the first class I tried and is still holds a speacial place in my heart. My abs, legs, and arms will always be sore in the best way the next day.
Barre meets cardio in the fusion class Empower. Unlike Classic and Reform, Empower is 45 minutes of fast-paced interval training that utilizes a plyometric platform and ankle weights.
Although Stam is trained in all class formats, she loves teaching Empower.
"I love teaching Empower because of the high energy. And I love being able to push people to find their edge." Stam exclaimed, "I feel like that class allows me to really coach them through the tough parts."
Reform targets strength and balance through sliders and resistance bands. The 50 minute workout emphasizes core strength and muscle control through full body working sections.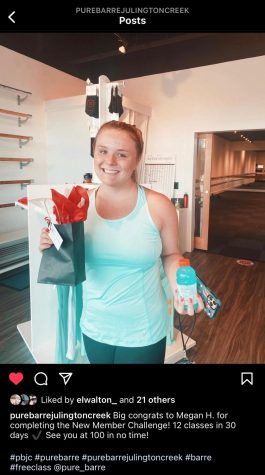 Reform always leaves me in the most pain. The next day as I laugh or cough I can feel the sore, achey feeling in my abs.
All classes begin with warm ups that get the heart pumping and the core engaged.
Once into the swing of class, movements are broken into sets and target varying sections of the body.
Between working sections, active breaks take place where participants are guided through a stretch relief beforing jumping right back into action.
Once class comes to an end, participants are guided through stretching and breath work.
The workouts are challenging and push people of all fitness levels.Instructors offer modifications to make exercises easier or harder.
To keep clients motivated and test both their mental and physical strength, Pure Barre creates monthly and yearly challenges.
In March, taking inspiration from NCAA basketball, many studios began their March Madness challenge. In this challenge, clients were encouraged to attend 20 classes in 31 days.
"I have never skipped one," Stam recalled while speaking about the March Madness challenge, "I love the challenges because they hold me accountable and it's also really fun to do them with like a friend and kind of cheer each other on."
Pure Barre may not be everyone's cup of tea, the workout is without a doubt worth trying.
Stam explained, "I think students would definitely benefit from the stretching and the strength training. Also, everyone can use the me time."
El Walton '23 works and takes class at Pure Barre. Walton loves "talking to all the clients and letting them vent about their days. and then seeing them after their workout feeling more relaxed and chill."
The workouts are challenging and push people of all fitness levels. Instructors offer modifications to make exercises easier or harder.
The workouts are challenging and push people of all fitness levels. Instructors offer modifications to make exercises easier or harder.
Accountability is a major component of group fitness classes. Working out with others creates an atmosphere where peers and coaches encourage you to push your limits. The best thing about Pure Barre is during sets when everyone encourages each other to just give a little more. Test yourself beyond your limits.
Megan Howard, Social Media Editor
Megan Howard is a senior and the Bugle's Social Media Editor for her second year. As the co-chair of the Homecoming Committee, Megan is active in numerous school activities, and when not in school, she enjoys cooking (namely copycat Chick fil A Chicken Minis) and taking long baths. She loves history and psychology for their insights on how and why humans are the way they are and hopes to study both in college.