Rivalry on the River: The second annual tournament takes place at Bolles
Nine games in total, eighteen teams took to the turf to compete over the course of three days in the second annual High School 9:12 Rivalry on the River lacrosse tournament. Taking place on the Bolles San Jose campus, the games were sponsored by Covenant Roofing®, with tickets costing $12 for adults and $5 for students. Last year, ten boys teams and six girls teams competed over the course of eight games. Atlantic Coast and Mandarin's girls teams, as well as Maclay's boys joined the tournament this year.
On Thursday, March 24, the event began at 5:30 with a game between the Creekside and Bolles girls' teams. Bolles won the first point and started strong, but the game ended 20-13 in favor of Creekside. At 8:00, Nease and St. Augustine's boys' teams took the field, Nease coming out on top with fourteen more points than St. Augustine.
The Episcopal boys' team played Providence on Friday, winning 17-1, followed by a game between Bartram Trail and Fleming Island boys in which Bartram Trail triumphed 13-4.
On Saturday, the five remaining matches took place between 10:00 am to 7:30 pm. Mandarin and Atlantic Coat girls' teams played a close game, Mandarin prevailing with a 6-5 win. Bartram trail and Ponte Vedra girls played next, Bartram Trail winning 13-8. Episcopal boys crushed the Menendez team 18-0 before the tournament ended with its last game between the Ponte Vedra and Creekside boys.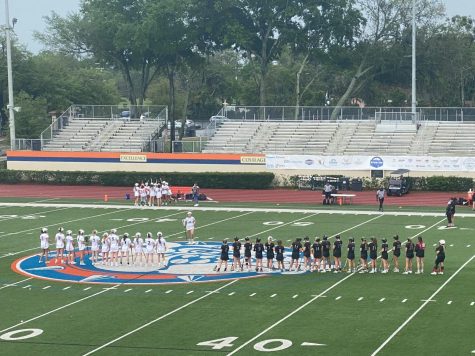 For the second year in a row, the tournament's showcase game took place between Ponte Vedra and Creekside. Ponte Vedra had managed a close 9-8 win last year, but was later defeated with another 9-8 victory in favor of Creekside. This year, both teams were 8-2, among the high school teams in Jacksonville. At 7:30 pm, the game began, and ended with the Ponte Vedra boys continuing their streak of Rivalry on the River wins 16-6.
Ava Cheng, Contributing Writer
Sophomore Ava Cheng is a second-year Bugle staffer and writer. She is proud of her ability to draw a goldfish, her 2nd favorite animal, as she enjoys creating 2D art. Ava is looking forward to continuing to write articles, create cartoons, and connect with the community this year. If she ever gets stranded on an island though, she's bringing Kate Youell along with her.