Charlotte Joseph Wins Triathalon
On July 30 in West Chester, Ohio Charlotte Joseph '26 won the Youth Elite Girls race to claim the national title and the overall series title for the 13-15 age group.
Joseph described winning as "surreal" and stated that
"It's something everyone dreams of happening to them, but only one person can win. And that one person was me this time." – Charlotte Joseph '26
A triathlon is a multi-sport competition involving swimming, biking, and running, completed in that order.
Joseph was seven years old when she completed her first triathlon. Her mom signed her up for the, now discontinued, Jax Kids Triathlon, upon which she fell in love with the competition.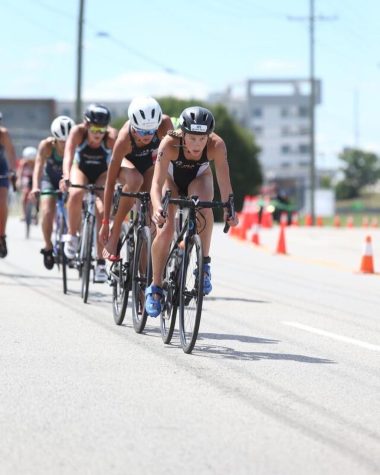 Now, from March to August Joseph trains and competes in triathlons. She trains for swimming by going to swim practice four times a week at Bolles. For biking, she uses an app called Zswift and her stationary trainer, she attaches her racing bike to a trainer indoors.
"Zswift is a workout platform similar to a game where you can see your character move throughout the roads. My coach writes bike workouts and they transfer to the app, that way I can workout while being indoors." Joseph stated.
She also does group rides with people from all over Jacksonville to receive a more realistic experience to a race.
For running, she is on the Bolles Cross Country Team; however, during triathlon season her coach will write workouts that she can do independently on the track.
Joseph also meets at a State Park in Clermont, FL, with her team, Triton Elite Multisport. "Our team has members from across Florida, so we come here to train on some weekends to get in hill workouts and team efforts." Joseph says.
Joseph describes managing three sports as difficult at times; however, she says that she couldn't imagine not doing triathlons and only focusing on one thing.
Joseph describes, "To organize my schedule, I use an app called Training Peaks. It's like a calendar app but specifically for sports and you can view your workouts and races on there, too."
When asked which of the three sports is her favorite Joseph said, "I appreciate all of the different aspects of the race. I think if I didn't like any of the sections, I would be wasting my time racing."
However, she says the most challenging part of the competition is the run.
"It can hurt physically and mentally, but to push through you have to be tough,

and know that the finish line is next." Joseph described. – Charlotte Joseph '26
Joseph describes her pre-race process as "Once I arrive I do my bike warmup, run warmup, set up transition, swim warm up, line up, and race!"
In continuation, Joseph adds, "Before my race, my coach has us write process goals, or goals that we can do during the race to achieve the best possible outcome."
Then, during the race she tries to stay in the moment and go through the steps. "During the race, you also have to be on top of the situation, and ready for whatever possible variables are thrown at you, since so many things can happen within three sports." Joseph states.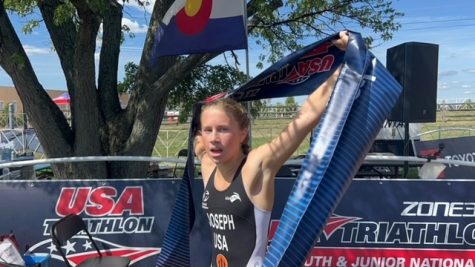 Looking back, Joseph describes what led to her victory. "My training and ability to adapt to adversity during the race. My coach had specialized my training to my weaknesses a couple months prior, so I was really working on perfecting my race."
Some of these adversities included, "An aggressive swim (we all start at the same time), many crashes on the bike (I wasn't involved), a long sprint finish on the run, etc." Joseph described.
However, Joseph didn't let these conflicts get in the way of her victory. Joseph stated,
"I didn't let these factors tear down my race physically and mentally, and that's what I think led me to win." -Charlotte Joseph '26
Along with her coaches and parents Joseph describes her sources of inspiration.
"The women who race on the Elite level for Team USA around the world. Some examples are Taylor Knibb, Taylor Spivey, Summer Rappaport, and formerly Gwen Jorgensen. Taylor Knibb used to be on my team when she was a youth, and has raced in the Olympics. Gwen Jorgensen won the gold Olympic medal in triathlon in Rio 2016." Joseph described.
Joseph's plan for the future is continuing to race triathlons at the national level and, if she gets the chance over the next 4 years, the international level.
"Eventually, I hope to compete for Team USA at World races, and one day the Olympics." -Charlotte Joseph '26
Grace Albaugh, Contributing Writer
Senior Grace Albaugh is a third-year Bugle staffer. An Italian citizen obsessed with Uma Thurman, she enjoys thrifting to find old technology such as cd players, cameras, and records. She has been recruited to play volleyball at Georgetown and hopes to use her sports insights to further Bugle this year. In the future, she hopes to become a civil rights lawyer.