The Jeeples of Bolles
Everyone has heard of car guys. They've heard of Disney adults, horse girls, and even K-pop stans, but have you ever heard of Jeep people?
Car people have their own type of culture: they talk about parts, they buy parts, they go to car shows, they discuss different modifications; they even talk about different paint colors. However, Jeep culture is a completely different world.
One cultural practice Jeep peeps do is wave to each other on the road. When asked if this was actually a thing, Sofia Caron ('21) answered: "That's another funny story. One time I was driving my car on the highway, and there were like four other Jeeps in a row, and we were all just waving and laughing."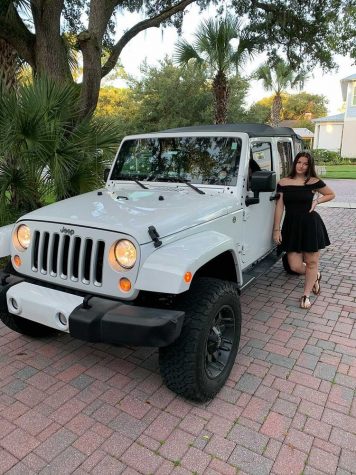 According to Caron, the best thing about this story is that they were all random people who have Jeeps, and they were waving and laughing with each other like they were long-time friends.
Caron has a 2019 White Jeep Rubicon. Her father originally wanted a Jeep, and after a year of having it, he gave it to her. "My favorite thing about my Jeep," Caron said, "is that I have a button that can automatically put the top down."
Putting a Jeep's top-down can be time-consuming and people can't normally just press a button and it goes down. You have to take off the soft top (which is the part that covers everything) take off the different sections of the soft top, and unhook many latches to release everything. Makenna Toomey ('21) found this out the hard way.
One night Toomey was driving to go get food for her parents with the top of her Jeep down when it started to pour. Toomey said, "I got off the road and I got out to try and get the top-up but it would not latch completely. People were also staring at me the entire time just watching me get soaked."
Toomey tried working on her Jeep top "for a good 10 minutes until I just left to go get the food."
When she got to the restaurant, one of the workers came out to help her, but neither of them could get the latch fully shut. This resulted in her driving home while holding the top of her Jeep to prevent from getting further wet. A big gust of wind knocked it out of her hand and her top came back down. "I pulled over again and fixed it the best I could but I just ended up driving home with it down."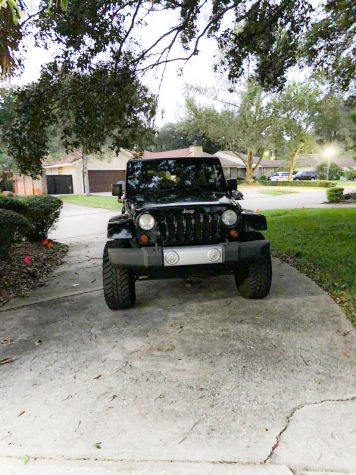 When the gust of wind knocked the top back down, it bent the bars on the Jeep so that they had to get them fixed. This repair costs around $300-$500.
To this day, Toomey has not driven with the top of her Jeep down.
Bobby Crouch ('21) has a different broken Jeep story or rather broken bushes. Crouch has a black 2013 Jeep Wrangler that has been through all of the Crouch siblings except one. "It was my oldest sister's [Caroline] Jeep first because she really wanted a Jeep but she couldn't take it to college so it just kept getting passed down to each sibling."
There are five Crouch siblings, and Bobby is the youngest and last one to get it. One time when Crouch was 13, his sister, Macey, asked if he wanted to park the car in the driveway, and he said yes.
In the aftermath, the car had a few scratches, but otherwise, it was totally fine.
Jeeps are fun, family loving, great for outdoor activities, and good for funny or rainy adventures. As Enzo Ferrari once said, "Jeep is America's real sports car."
Taylor Ford, Copy Editor
Senior Taylor Ford is this year's Copy Editor. Her interests include horseback riding (fun fact: she named her horse after Tony Stark) and photography. Her most desired superpower is the ability to read minds, and she loves English and analyzing literature.