6-on-6: March-April
History: Freshman Research Paper – Daniel Waheed
At Bolles, the freshman year history research paper is regarded by many as a rite-of-passage, a necessity for any rising freshman. To many, it is the culmination of the freshman history class, and it represents challenge and change.
The research project, which is assigned to freshmen in the second semester by history teachers, can be about any topic, ranging from the situation in the Xinjiang province of the People's Republic of China to the humanitarian crisis in Yemen. Ultimately, the topic depends on what its researcher is interested in, and is a reflection of the intellectual curiosity of the author.
Owen Shorland, 10th grade, remembers his research paper experience as being demanding. "I remember the research paper being very stressful as we had to write about a current event which limited the information that we could use."
Some students don't find the whole shebang to be worth it. Owen, who wrote about Uighurs and their suppression in China, believed the process to be pressure-ridden. "I believe that there was a lot of pressure as well. When you're writing a research paper, you always want it to be to the best of your ability as you want to get your message across. I don't believe it carries any symbolic value as I didn't see it as an important event in my freshman year."
On the other hand, some students find the process to be tough yet meaningful. Ben Frick, freshman, views the experience as having been "rough but fun." Ben, who is writing about children's involvement in militias throughout the globe, states that "It has been quite difficult gathering sources, but also fun at the same time learning about new things."
"My favorite part of this process was doing research online and finding interesting yet sad things about the state of child soldiers," Ben said.
Other students, particularly upperclassmen, share Ben's view on the research project. Stefano Hernandez, junior, stated "It helped me effectively research information on a topic and organize it effectively to make an organized cohesive essay."
Mr. Gebauer, freshman history teacher, believes that the research paper is essential in building research skills in freshmen from the very beginning. "Over the past few years, we really tried to move in the direction of trying to touch on modern issues that are affecting the world along with solidifying sound research methods, students."
When asked about what he wants his students to take away from the entire process, Mr. Gebauer said "I definitely want them to have the research skills and be more sound writers, but I also want them to have more of an appreciation and understanding of what's going on in the world. It's really easy to be focused on what's happening to us in our little bubble. There's a lot more going on out there than what we are usually aware of."
Whether rite of passage or mere assignment, the freshman year history research is a memory for all students of Bolles.
---
Language: Congreso, Congrès – Sara Wasserman
"Sometimes we get to see some strengths that we didn't realize students had," said Madame Phillips-Bourass, one of the French teachers who attended Congrès.
Over spring break, students chosen from Bolles' French and Spanish programs took a bus to Orlando to take part in competitions for their respective languages. The Spanish competition, Congresso, and the French competition, Congrès, are composed of several different events that students take part in to represent the Bolles French and Spanish programs.
"The kids seem to really like it. It's an academic competition that is not that stressful," said Phillips-Bourass.
The first night of Congresso, students participate in impromptu speaking. French students also take part in impromptu speaking, called discours.
"Though these are questions that they've seen, because they can kind of study for it, 16 topics is a lot. And so speaking on a topic in front of the judges can be very scary," said Señora Stam, who attended Congresso this year with her students.
Students can also channel their knowledge of foreign language through performing a short play. For Congrès, this is called the Pièce de Théâtre. Congrès competitors can also participate in a group trivia competition called Casse-Tête, and submit a scrapbook for evaluation. Music competitions are also a part of both Congrès and Congresso.
For the teachers, the experience is also very fulfilling. In addition to seeing their students grow and flourish in a competitive environment, teachers also get to meet other language teachers and connect with other language programs.
Phillips-Bourass describes Congrès for teachers. "And for the teachers, t's sort of a networking opportunity, because we get to hang out with all the other French teachers from around the state."
"It's very fun to see your students achieve, and see them grow in a matter of three days," remarked Stam.
"I think kids enjoy just having the chance to be, you know, hanging out with their friends from French class, but also like, in a more relaxed environment, where they can just sort of chill and have fun," said Phillips-Bourass.
---
Science: Anatomage Update 7.0 – Raphael Sogueco
Imagine getting a human cadaver in the mail!
Although not an actual human corpse, the cadaver is a digitized human body included with a new update for Bolles' Anatomage table. This person who chose to make a valuable contribution to science comes on a flash drive.
Originally intended for medical schools, this $78,000 dollar donation was wheeled into the Anatomy classroom for the first time in April 2017.
The table houses a computer running a Windows 10 system, which displays 3D models from two monitors around 4 feet in length. The computer runs an Anatomage program that contains high quality, interactable, cadavers of humans as well as some animals.
The table can also stand up to a height of 8 feet for an alternative view of the cadavers.
The program contains a total of 4 3D cadavers. The aforementioned update was a Caucasian female, adding to the roster of 3 other cadavers including a Caucasian Male, an Asian Female, and an Asian male. The table is currently on version 7.0
However, does Moyer-Shad feel the shiny once-new investment worth the cost? Most definitely!
"It's currently being used in anatomy classes, So it gets used year round in that regard." said anatomy teacher and Director of Student Activities Mrs. Moyer-Shad.
"We've had chorus classes come in to use it. I've had dance classes come in and use it, the psychology class looks at the brain, And, one biology class comes in and those are the main users right now."
Overall, the table is in great condition and will continue to enamor and excite science students for many years to come.
---
English: Robinson's Memoirs – Isabel Schimpff
Many students, not even legal adults yet, anticipate the majority of their life experiences that have yet to occur. They look forward to college, jobs, and relationships, but now is the time they tend to hyper-focus on their "future." Even so, Ms. Robinson, a Bolles 12th-grade English teacher, allows kids to reflect on their "core memories'' and their accomplishments over their lives.
After the students read Frank McCourt's 1996 memoir, Angela's Ashes, Robinson gives the assignment of having the students write their very own memoirs.
The parameters for the assignment are simple. Students choose a topic from a predetermined list, then complete three vignettes.
Some of the common elements of the possible topics include, a person/a problem, a place, and an event that recurs through the years.
Each vignette must be 300-500 words and must all connect to one another. As long as students follow the vignettes, they are not required to follow a certain style of writing.
Robinson points out that one of the most important aspects of Angela's Ashes is that Frank McCourt writes in his own voice. The class even listens to the audiobook two to three times a week so students can hear the emotion and soul in his voice and how it translates to his writing.
This assignment is one that expects a layer of vulnerability from students. The more emotions you can clearly express in your writing, the better it will be.
To initiate the trust that is needed between teacher and student for this assignment, Robinson writes and reads a sample memoir to the class. This year, she chose the topic "someone that shaped my life, someone that hurt me, and someone that saved me." Robinson, in response, wrote about her mother, brother, and aunt.
At the end of this assignment, students are encouraged to show their writing to the person in their life that they wrote about. Robinson always recommends letting people know how much they mean to them through their writing.
"They have some really moving and amazing things that they write," Robinson said. "What happens is they start writing these and they don't realize the people they are writing about are incredibly impactful."
---
Arts: Guest Artist Recap – Alex Boutwell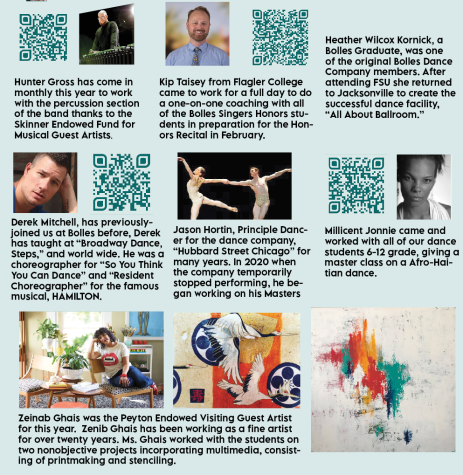 ---
Math: Reinschmidt Retiring – Grace Albaugh
"The relationships which you build with the students is amazing. Over the years I've watched students grow up, get married, and have families and careers," said Mrs. Reinschmidt, a beloved math teacher who after thirty-six years of teaching at Bolles has decided to retire.
Reinschmidt originally did not want to become a math teacher she said, "Believe it or not, I originally wanted to be a PE teacher, but I was told that with a math degree I could always get a job, whereas PE jobs were hard to come by. Best advice I ever received."
Those factors along with the ability to spend the summer with her kids and the fact that both her parents were educators led her to become a math teacher, a decision she did not regret.
Over those thirty-six years of teaching, Reinschmidt reminisced about some of her happiest memories and proudest achievements.
"Receiving an award at the end of the year where a student got to choose a teacher who helped them most to achieve success was one of my favorite memories." She explained.
"Another special achievement was to be selected by ETS and the College Board to be in leadership for the development of the grading of the AP exams." Reinschmidt added.
Along with the memories she's made with students comes memories she's made with fellow faculty members.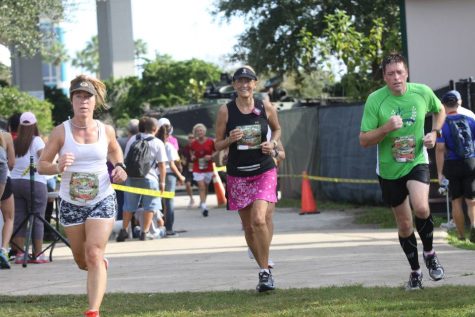 "While the names and faces of the teachers have changed over the years, I have always found the math department to be a fantastic department. We enjoy time together and have a great camaraderie. I will miss my friends in the department very much." Reinschmidt concluded.
However, with the sadness of leaving a chapter of her life behind comes the excitement of beginning a new one. Reinschmidt describes herself as "kind of an exercise junkie" and plans to continue her adventurous and active activities into retirement.
"I like all things outside. My extra-curricular activity which I'm most proud of is doing a half-ironman at the age of 62. I'm also proud that I was able to run the New York Marathon not once, but twice." Reinschmidt explained
She also added, "A goal of mine is to hike portions of the Appalachian Trail. I also heard there are some great bicycle tours in Europe which sound amazing."
Along with remaining active Reinschmidt has other plans in store for her retirement. "I love projects around the home. I want to learn how to install new hardwood floors in my house and how to replace tile backsplashes in the kitchen." She explained.
In conclusion, when asked why she chose now to retire Reinschmidt laughed and said, "Why now? I'm getting old! On a serious note, I want to be able to do fun things while I am still able."