Bolles Brings Bratcher
Russ Bratcher was always interested in art and design. At the age of 14, he started out as a watercolor painter and then moved into art education. Now, Bratcher is Bolles' new photography teacher.
Bratcher's love for photography grew from his experiences with his dad and his film camera. "My dad taught me how to actually open a film camera. So when I took a dark room traditional film photography class, I was the only one who knew how to open the camera."
Bratcher served in the Air Force, indulging in his love for the arts through a community theater program where he directed plays and used Photoshop to create posters for advertisements. "I was teaching myself Photoshop in England in the dorms where I lived in the Air Force," Bratcher said.
"I think the strength of photography is that photos are forever so they're a really good way of recording a culture."

— Russell Bratcher
After his service in the Air Force, he got his undergrad degree in web design and interactive media and got his masters of fine arts in art education. He began teaching at Socastee High School in Myrtle Beach for one year and then moved to Wando High School for the next seven.
Bratcher wanted a change of scenery after COVID since he had been living in South Carolina for all of his life except during his service in the Air Force, and there was a job offered at Bolles to teach photography. He decided to jump into a art at Bolles as a photography teacher, a class he knew the importance of, "I think the strength of photography is that photos are forever so they're a really good way of recording a culture," said Bratcher.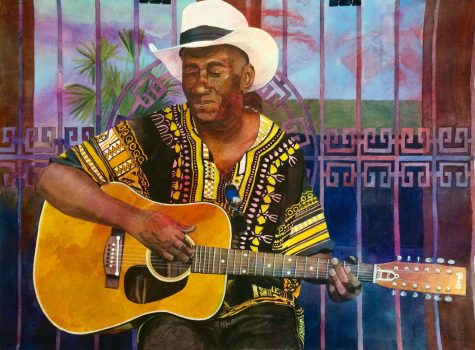 An essential part of Bratcher's teaching and building on images in design and other media is storytelling. His structure of storytelling is shown especially as he teaches photography, since he explains to his student to look at the message that a photograph is telling someone.
Students have learned form the projects he assigns such as, Memorial Portraiture, where students create a character from the 1800's and write a story along with a photo that they create. Bratcher commented, "It's important to identify [the story] in your head and as long as you know what your story is, everything kind of comes intuitively."
Caylee Padgett, Online Editor-In-Chief/Sports Editor
Caylee Padgett is a junior and second-year staffer and this year's Online Editor-In-Chief and Sports editor. She is active in track and field (javelin) and enjoys crocheting, reading, and writing in her free time. A passionate fan of Stephen King (not in a weird way) she enjoys learning his writing techniques. Caylee hopes to contribute as much as she can to Bugle and help out the new staffers.