Rocking and rolling with Soraya Rafat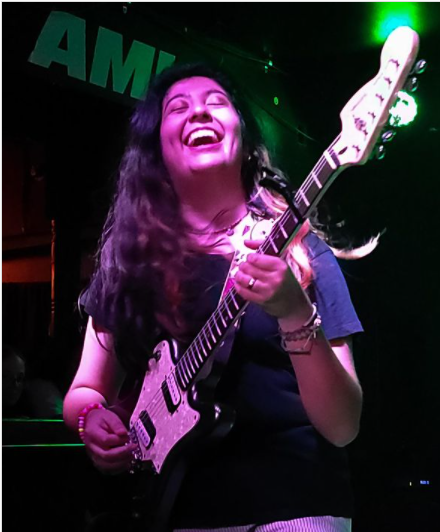 Every human who's seen a band onstage has wondered, "What would it be like to play for them?"
For Bolles Alum Soraya Rafat '20, this dream became a reality. Rafat, who plays bass and the electric guitar among other instruments, started her musical journey playing for the Bolles Symphonic Band as well as the Bolles Jazz Band. Rafat also participated in memorable and captivating performances during the Coffeehouses Bugle holds each year.
Now. enrolled in Berklee College of Music in Boston, Massachusetts, Soraya is also touring with a band across the United States. This year, Soraya was asked to audition in order to play for the artist Frances Forever.
Rafat said she got the audition through a friend named Simon and within 30 minutes of the audition, she learned got the gig.
Frances Forever will be touring with the band MisterWives, who Soraya saw as a freshman at Bolles. "I already knew about MisterWives because I had actually seen them open for Panic At The Disco when I was a freshman in high school in 2017."
Rafat recalled "Now it feels so weird that, I'm going to be opening for them now."
"You know, it's kind of like it all came full circle," said Rafat.
During this tour she will cross the US, first going to Ft. Lauderdale right here in Florida. When asked what her favorite places to visit on tour were, she said " It's just cool knowing that we're playing in like, all these really cool cities like Nashville, for example. I've always wanted to go there because I've heard the music scene is great."
Rafat is also excited to tour in California. When asked what city she was most looking forward to she said, "that's a hard one because it's LA and San Francisco."
When asked about her influences she immediately mentioned PVRIS, a modern rock band, saying, "Linda, the front woman (of PVRIS) has been like my biggest inspiration since I was like 13 or 14 she's actually the reason why I wanted to like keep doing music and like make a career out of it and like go on tour and stuff."
"
'I can make someone's day just like, posting a minute of guitar playing, you know?"
— Soraya Rafat '20
"And now we're we were on that level where like we talked to each other now I mean, she followed me on Instagram at one point we still talk like even today," Rafat concluded. "You know, you don't see a lot of women out there making rock music."
Soraya also has a substantial social media following, as well with 4600 Instagram followers, combined with a TikTok where she posts videos of her stellar performances as well as a YouTube channel where she uploads vlogs of her life in and outside of music.
Reflecting on the benefits of her social media presence, Rafat proved herself the generous performer she was in high school. Rafat said "It's really nice that, you know, I can make someone's day just like, posting a minute of guitar playing, you know?"
She will be touring from November to December of this year, starting locally in Ft. Lauderdale, Florida.
Raphael Sogueco, Contributing Writer
Raphael Sogueco is a junior and a first-year Bugle staffer. When not playing video games or playing tennis, Raphael is an avid music lover who enjoys playing a variety of instruments and making his own music. In the future, he aspires to study medicine and to develop new medical technology to help others.