Max Kim: Composing a life
Freshman Max Kim ('25) considers music to be the universal language, and that hearing is not necessary for the composition of music pieces.
"Take Beethoven," Kim explained, "he composed some of the greatest works in music history, all while being deaf. This is because music is in your mind; you have that internal ear that allows you to hear it all in your head."
When fifth-grade Kim sat on the soft bench of a piano, the transfixing sounds permeated his ears. That moment marked the beginning of a life-long interest in music.
"When I was younger," Kim explained, "I would constantly create my own mini LEGO structures. Whatever I envisioned, I created, and sometimes they ended up relatively well."
Similarly to how LEGO structures are made brick by brick, music pieces are composed note by note.
Moving from New Jersey to Jacksonville and becoming a Bulldog has been inspiring to Kim. It is his passion for music that empowers the aspiring musician to travel from one corner of the United States to the other.
Currently, Kim practices piano at the pre-college program of Juilliard School in New York, where his major is composition.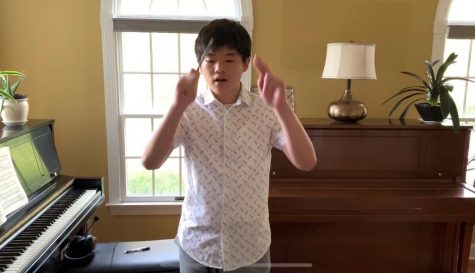 On top of his rigorous ninth-grade curriculum, the musician makes an effort to commute to the academy every weekend.
While many think of Friday as the beginning of a lazy weekend, Kim prepares himself for a bustling weekend in New York City.
"I wake up at 5 in the morning and get on my flight at 6. I arrive at the school at 8:30 and my first class starts at 12," Kim explained.
At Julliard, the composer takes challenging courses such as counterpoint and ear training. Kim enjoys the energetic, cooperative environment, along with the class discussions regarding composers.
On that note, Kim suggests that the Bolles curriculum add a music composition course.
Aside from his interest in classical music, Kim also dabbles in other genres.
As the holiday season approaches, Kim is playing his favorite Christmas tunes and believes that it is never too early to engage in festive, jolly carols. This interest stems from a vivid memory of 8-year old Kim and his father back in New Jersey.
"I was in the car with my dad. We were listening to Christmas music, and I was staring outside of the window at a beautiful landscape of snow. I was getting that exciting festive feel," Kim recalled.
Although an avid musician, Kim also enjoys playing video games, which he declares to be the sole thing that he is unable to live without.
"It's not so much about the video games themselves as it is about reconnecting with my friends from my old school," Kim said.
Playing video games maintains the connection and bond with his friends, even 785 miles away. To Kim, making new friends is just as important as preserving past friendships.
Friendship is like music—it flourishes with practice.
"Never forget the days I spent with you. Continue to be my friend, as you will always find me yours."  – Ludwig van Beethoven
Jaden Taher, Copy Editor/Academic Editor
Jaden Taher is a sophomore, second-year staffer, and Bugle's Copy Editor and academic editor. An avid reader, pianist, swimmer, and writer, Jaden hopes to create a podcast on student life. He enjoys science and hopes to study genetics in college. He is proud of his perseverance and will use it to make a fun environment in Bugle this year.