More than a fish store: fish, reptiles, ponds, coral — cafe?
Floating Sea Aquatics is a fish, reptile, pond, and coral café, stationed on Old Kings Road. It seems a bit eccentric on the outside, but as soon as you enter, the atmosphere is welcoming and open. Azi Raza, the founder of the store, aims to broaden horizons for young people about marine and general wildlife. Raza says, "This is not a business for me, rather a medium to educate children and our communities about these delicate species and their importance in our lives."
Their primary goal is education, and the main floor is open for free classes, art installations, and charity events. Recently they hosted a silent auction for charity, and many more public events are planned there. Raza says, "We have a group of artists now that are joined by us. And then now hopefully, they're going to put together some kind of a program for the kids to come in."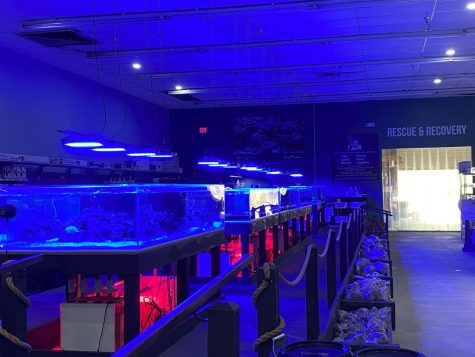 The floor also hosts a cafe, with a vegetarian menu including soups, smoothies, salads, and sandwiches. Currently the cafe is briefly closed because of Covid, but the rest of the store is still operating.
The store has a range of marine and land creatures, among them include salt and freshwater fish, snakes, lizards, and even a selection of coral. Many of these creatures are rescues, and if you do decide to buy an animal, the staff will give thorough information on care and how to properly own the creature. Raza says, "We are saving lives. We are also educating people to carry that on for the future."
FSA is focused on authenticity rather than retail, and reaching out to the community. Raza says, "I work seven days a week, 16 hours a day… The idea is eventually I'll have enough good people around me that they will carry on."
Alex Boutwell, Contributing Writer
Sophomore Alex Boutwell is a first-year staffer. Apart from playing video games like Genshin Impact, they enjoy creating digital art and hope to pursue the field as a future career. Their favorite subject is English, and they love to read, write, and draw. In Bugle this year, their goal is to edit videos and design graphics, as well as write an article of which they are proud.