Quick Recs: Delicious Doughnuts
The Mini Bar
The Mini Bar is a doughnut shop located at 10618 Deerwood Park Blvd. Jacksonville, FL 32256, with a rating of 4.6 out of 5 stars. It is filled with all sorts of mini doughnuts with different flavors and they also have holiday specials. The doughnuts are cake based making them richer than other ones, but their mini size balances out all the flavors. The Mini Bar is also located at 1300 Beach Blvd, Jacksonville Beach, FL 32250 and 1524 County Rd 220 #4, Fleming Island, FL 32003.
Parlor Doughnuts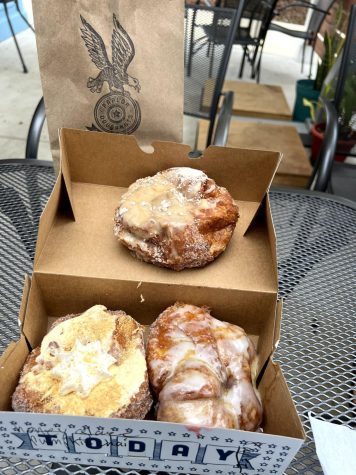 Parlor Doughnuts is a doughnut shop located at 585 State Rd. 13, St Johns, FL 32259, with a rating of 4.8 out of 5 stars according to Google Reviews. They are famous for their croissant/doughnut hybrid that is then covered or stuffed with delicious different flavors. Their doughnuts are super sweet, but light and fluffy making it the perfect doughnut to go with a coffee or hot chocolate.
Good Dough
Good Dough is located on 1636 Hendricks Ave, Jacksonville, FL 32207, it has 4.4 out of 5 stars and specializes on custom and interesting donuts. They have a wide variety of donuts ranging from savory, such as the everything donut which has cream cheese and everything bagel seasoning, and sweet donuts which was a great contrast to the savory donut.
The Donut Shoppe
The Donut shoppe is located at 1535 University Blvd N, Jacksonville, FL 32211, and it has a 4.8 out of 5 stars for reviews. Its donuts are more traditionally made and not super overdone or have massive addons. The raspberry donut was very sweet with a coating over the dough, this is true for all of their donuts.
Caylee Padgett, Online Editor-In-Chief
Caylee Padgett is a senior and third-year staffer and this year's Online Editor-In-Chief. She is active in track and field (javelin) and enjoys crocheting, drinking tea, and reading in her free time. Her goal in Bugle this year is to improve readers' experience on the Bugle website. The most awe-inspiring place Caylee has visited is Japan and she hopes to visit there again in the future.
Tristan Schneider, Contributing Writer
Tristan Schneider is a sophomore and second-year staffer. A stop motion animator with hopes to study film in college, Tristan hopes to contribute opinion and satire stories to Bugle. On a day off, Tristan enjoys visiting Colorado to go skiing and his favorite color is purple.