Quick Recs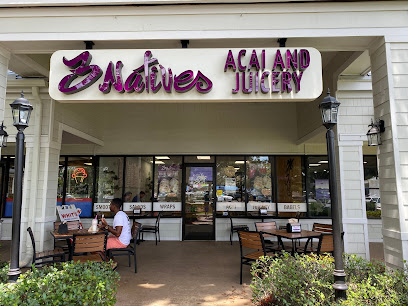 Magic Waffle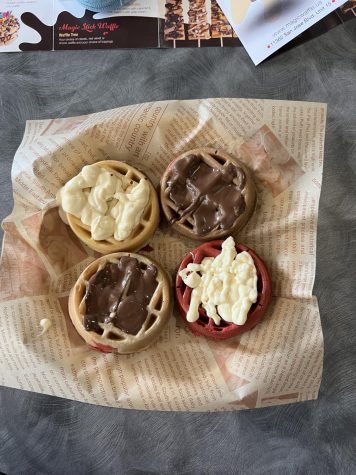 Magic Waffle is a waffle and boba restaurant, popular for not serving your typical waffle. Magic Waffle has a variety of sweet foods and drinks and never fails to disappoint.
Magic Waffle is located at 11362 San Jose Blvd Suite 15, Jacksonville, FL 32223, just off San Jose Blvd.
The most popular waffle on the menu is the Magic Waffle, named after the restaurant. The Magic Waffle is a fluffy waffle topped with berries and drizzled in caramel, milk, white, and dark chocolate.
Having something to drink, like Magic Waffle's boba, compliments the waffles' sweetness. The flavors vary from Milk Tea to Matcha Green, so there is something for everyone to drink. If you are not a boba fan, Magic Waffle also has a wide variety of fruit teas, coffees, and milkshakes to try.
Overall, Magic Waffle was a pleasant experience, and I would definitely visit again. While the customer service was not ideal, the food was delicious. 8/10.
3 Natives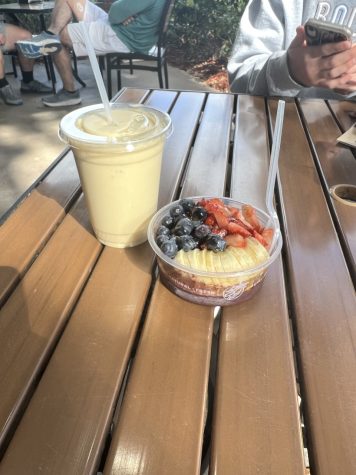 3 Natives is a restaurant located at 11362 San Jose Blvd Ste 4, a short walk from Magic Waffle. Known for its acai bowls and smoothies, 3 Natives provides healthy options for customers to enjoy.
The acai bowls consist of various berries, granolas, and other toppings. I ordered The Local, which has an acai base with granola, strawberries, blueberries, and banana, drizzled with honey. 3 Natives also has paninis, salads, and wraps as other foods consumers may choose from. Together, these foods serve as healthy, quick, and affordable options for the
consumer.
As for beverages, 3 Natives has smoothies, juices, and shots. These are made of vegetables, fruits, and other ingredients like almond milk.
Overall, 3 Natives was a fun experience, and I would definitely visit again. The customer service was great, as well as the menu. 9/10.
Happy Grilled Cheese
Happy Grilled Cheese sells delicious grilled cheese sandwiches, fries, tomato soup, and more. Located at 9965 San Jose Blvd, Jacksonville, FL 32257, Happy Grilled Cheese has locations in Mandarin and Downtown (photos show the Mandarin location). I tried the Happy Melt, their classic grilled cheese sandwich. The food was excellent, and we would highly recommend trying it!
Le Petit Paris Cafe
Le Petit Paris Cafe, located at 9965 San Jose Blvd Ste 46, Jacksonville, FL 32257, is a french cafe selling sandwiches, croissants, desserts, and more delicious treats. I tried the tomato, mozzarella, and pesto toasted croissant, as well as their chai latte. The outdoor seating was great as well. The croissant sandwich was amazing, and I look forward to returning!
Sara Wasserman, Writing Coach/Student Life Editor/Copy Editor
Junior Sara Wasserman is a third-year staffer and this year's Writing Coach, student life, and copy editor. She enjoys rowing, science, and writing. Her love of writing has led her to her goal of "writing more op-eds, enter some writing contests, and have a great year with the new staff!" She plays with her dog and binges Stranger Things in her free time.
Ellie Stewart, Contributing Writer
Ellie Stewart is a freshman and first-year staffer. A strong swimmer, Ellie hopes to contribute to the growth of the sports coverage in the Bugle this year. She would love to see through the eyes of a wedding photographer because "they see happy and pretty things." She also enjoys learning history and loves dogs.