Ukraine in Florida
The stakes of world conflict are high for the First Russian Ukrainian Baptist Church of Jacksonville.
For them, the current conflict in Ukraine is extremely personal.
All of the members of the First Russian Ukrainian Baptist Church of Jacksonville, founded by Anatoli Kadaev almost 30 years ago, either lived in Ukraine or Russia or have family who currently does. Every week, there is news of another missile hitting a home town, another neighborhood getting destroyed, another family member missing or dead.
"It's terrible. These are the worst days of all my 76 years" Reverend Kadaev described.
Anatoli Kadaev is a pastor at the First Russian Ukrainian Baptist Church of Jacksonville. He has been living in Jacksonville since 1993 after he moved from Ukraine. Before that, he lived in Russia.
Born in St. Petersburg, then called Leningrad, Kadaev lived in Russia until 1959 when he and his family moved to Kyiv. Though he was living under an oppressive government, Kadaev still remembers his childhood fondly,
"It was a normal childhood in the former Soviet Union."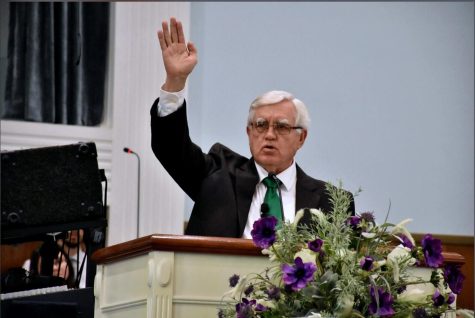 In 1966, Kadaev was drafted to the Red Army. He spent three years until he was demobilized and ended up in the city of Kirovograd. "I started to attend the Baptist Church in this city, and that touched my heart," Kadaev explained. "I repented. I accepted Jesus Christ."
Kadaev decided he wanted to follow in his father's footsteps and become a minister. He could not do this under the atheist Soviet government, so he moved to attend the Baptist College in London.
After his education, he began preaching back in Ukraine. Eventually, he got tired of the socio-political climate and wanted a change. "I got tired of persecution […] I was ready to go anywhere" Kadaev said.
Now, Kadaev's homeland is being bombed by Russa on the daily. "This terrible, tragic situation; this barbaric work; it's unbelievable. They destroyed personal life, destroyed people you know, destroyed family, destroyed the whole country" Kadaev said.
The main way Kadaev copes with the disaster is The Bible. Kadaev said "the book is the base of my faith. It is the compass and the strength of not only my faith, but all my life." When the war started, Kadaev felt he could relate it to Psalm 27, verses 1-5 (see sidebar).
Though the pain of having to watch your home unjustly be bombed seems unbearable, Kadaev is able to find light and hope through his faith. His church started a Ukrainian relief fund which can be found at frucbj.net. Please donate to this or any Ukrainian relief projects to help the victims of the Russian invasion.
Isabel Bassin, Multimedia/Op-Ed Editor
Junior Isabel Bassin is a third-year staffer and the Multimedia and Op-Ed Editor. Her pride in being herself has helped her quest to "end societal discrimination against the gluten-free community." A lacrosse player with the spirit of a poppy flower, Isabel hopes to put together exciting and captivating videos and yearns to discover concrete evidence of the existence of aliens.