Club Day: Club Spotlight – Computer Science Club
Python, Java, and C Sharp might sound like a foreign language to some, but to Computer Science Club presidents William Schilling ('24) and Daniel Ji ('24), it's second nature.
Dr. Dostert, the AP computer science teacher, along with William and Daniel decided to start the club this year with the idea to "create a community where the people who are interested in computer coding can work together to hopefully improve their skills," Schilling said.
The club is open to experienced coders and people that are totally new. Ji put the first steps of coding into perspective, "You know, don't try to fly before you can walk… but it's definitely a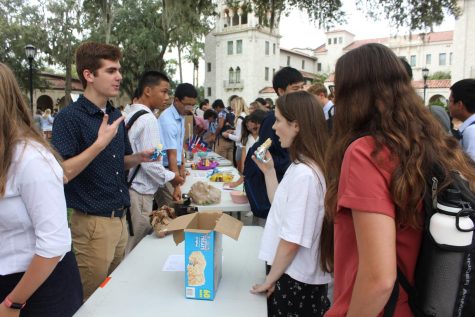 process you know, you can't just go into maybe wanting to solve a very hard problem, even
though that's maybe the final goal, but I'd just say enjoy the journey."
The club will focus on coding for competitions such as Google Code Jam and the United States
of America Computing Olympia (USACO). Ji explained what the basic goal of these
competitions is, "you want to say, how can I make my code more organized, more efficient? We
don't want to be losing any time order, or like, excess time and doing useless stuff. So we want
to get our code as concise as possible."
The club also includes volunteering opportunities such as "The robotics program at Sanctuary on Eighth where we could, through the robotics team, figure out a way to work with them and mentor their team as well…the Bolles Whitehurst campus has a team which holds practices co-lead by Dr. Dostert after school; with his help, we'd like to use our knowledge to mentor them in block-based coding," Schilling said.
The Computer Science Club hopes to make an impact on the Bolles community and the local community. Ji encourages students with the same passion, "if you really want to start a club, find something that you personally are passionate about. And find other people that share your passion."
Schilling shared a few sources for learning about computer coding that, Computer Science P and Computer Science A classes at Bolles are great ways to develop an understanding of code. If you want to try out and learn a little bit about coding on your own check out this youtube. If you want to join the club email either [email protected] or [email protected].
Caylee Padgett, Online Editor-In-Chief
Caylee Padgett is a senior and third-year staffer and this year's Online Editor-In-Chief. She is active in track and field (javelin) and enjoys crocheting, drinking tea, and reading in her free time. Her goal in Bugle this year is to improve readers' experience on the Bugle website. The most awe-inspiring place Caylee has visited is Japan and she hopes to visit there again in the future.