Lekas ('21) Hooked on Fishing
As an outsider looking in, most people think of fishing as a hobby, something you do every once in a while for fun; however, for a lot of people, fishing is way more than that. It's a way of life, a community, and an entire culture of its own.
There is a club dedicated to the sport of fishing. It is a place for people to share their favorite places to fish, their stories, and their techniques. They also host fishing tournaments to raise money for K9s for Warriors.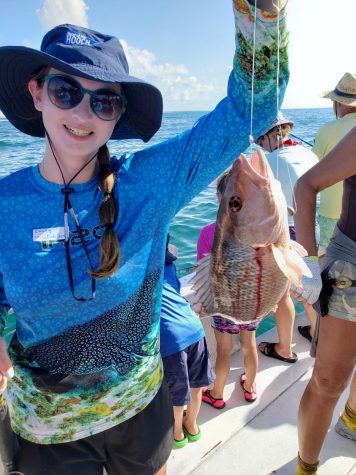 "We're using our communal love for fishing to help the Jacksonville community." Emily Lekas, a member of the club, said.
Lekas, who prefers fishing with seine and dip nets, joined the club to gain experience and learn from others about different ways of fishing. She said, "there's a lot of different techniques and attention to detail that may surprise people about fishing."
Lekas described her love of fishing as being rooted in her love of the ocean.
"I think the diversity of life in the oceans, rivers, and all aquatic ecosystems is amazing," she said.
Lekas has always fished with her family and especially enjoys fishing at Alligator Point every summer.
"My dad and I were dragging the seine net through the water at Alligator Point and something huge hits the net, we can feel it, it starts thrashing around."
Lekas explains that not knowing what's in your net is a big part of what's so exciting about fishing. "As we're pulling it up I see a gar and start screaming because you know I want to pick it up, so we pull it up on land and it's huge like four feet, this awesome gar."
A gar is a fish you wouldn't expect to catch in the ocean, they are typically found in warm freshwater and sometimes brackish water.
"I put on a fishing glove, and come up behind it, full of adrenaline, and just reach out, grab its nose and hoist it up," Lekas explained. "I was freaking out, that was one of the happiest moments of my life."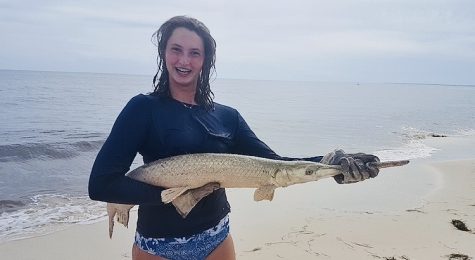 Lekas described that as the most interesting thing she's caught in a net. "In the ocean, you would expect to catch, stingrays, flounder, and small fish, but not a gar."
The excitement of what may be on your rod or in your net is another part of what she finds so exciting about fishing, along with the idea that she worked to catch this creature, and now that hard work paid off.
"A lot of people wouldn't get fishing because it's like, 'oh now I get to hold this slimy disgusting fish,' but most people who fish don't mind because the fish is your reward," Lekas explained.
For people who love to fish it is a big part of their lives, more than just a hobby. Lekas explained what fishing means to her brother.
"He won't eat fish unless he caught it, he has the mindset of I've worked for this fish, and now I'll eat it."
For Emily Lekas, that meaning is a little different. She emphasized, "I consider myself a germaphobe, but I've kissed fish before; it's just part of the fishing culture."
——————————————————————
Alligator Point
If you decide to visit Alligator Point know that you will not see many alligators, the peninsula actually got its name from the alligator tail-like look it has when viewed from above. Since looking for and possibly running from alligators is not available what this peninsula is known for is fishing.
The peninsula consists of eight miles of untouched coastline which is home to many different species of fish such as grouper, snapper, cobia, tarpon, and redfish. Alligator Point proves to be a hotspot for both inshore and offshore fishing.
Grace Albaugh, Contributing Writer
Senior Grace Albaugh is a third-year Bugle staffer. An Italian citizen obsessed with Uma Thurman, she enjoys thrifting to find old technology such as cd players, cameras, and records. She has been recruited to play volleyball at Georgetown and hopes to use her sports insights to further Bugle this year. In the future, she hopes to become a civil rights lawyer.