Patel Scores a Point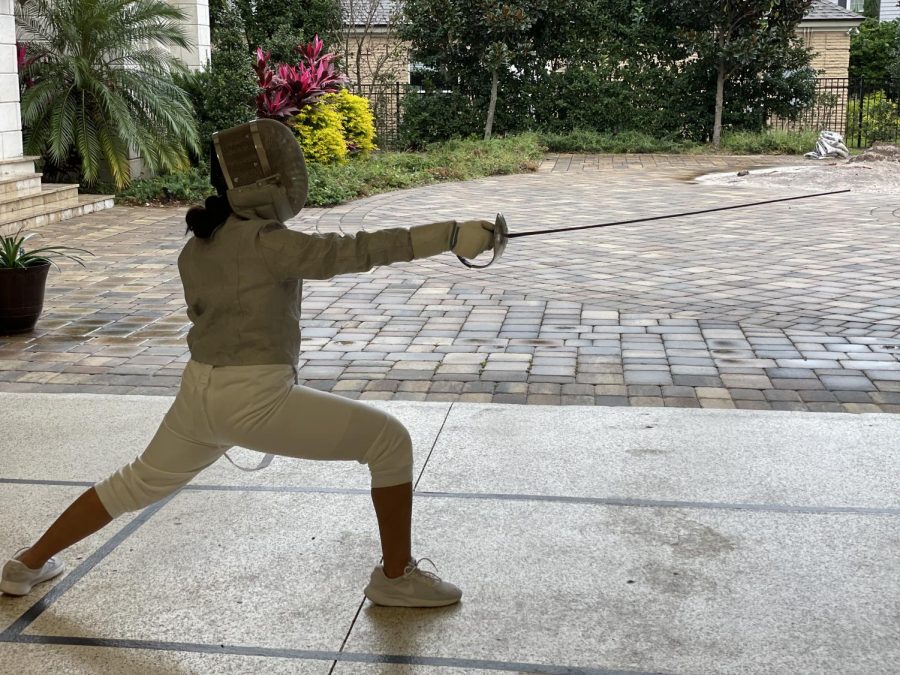 Diya Patel watched intently as the fencer moved swiftly around his opponent, dancing across the silver screen, quickly finishing the match with an elegant victory." When she watched the movie Vandraft for the first time, Patel thought "it was such a cool opportunity." Inspired, she joined the local Fioretto Fencing Academy, working with Coach Pavel to practice sabre fencing.
Sabre fencing is the result of years of refining and altering sword fighting. The origins begin in ancient civilizations and become more pertinent in the Middle Ages of Europe.
The heavy armor was reduced and the mass of the sword itself was minimized. This new style emphasized a simple, nimble, and controlled style of fighting, which soon spread throughout Europe to become the sport we know it as today: fencing.
Fencing has many rules and many types of equipment. "I personally prefer saber because there aren't a lot of rules," Patel said.
Patel interacts with different fencing gear on a daily basis. "We have a saber sword. We also have a jacket that protects you and a glove. We wear only one glove on the hand we use to fence."
Despite being an old sport, fencing had become modernized, "We have electric wires attached to machines to help us tell the referee or coach, whoever is refereeing us, who gets the point." Patel explains.
After learning the basics, Diya went deeper into what fencing means. "I like to describe it as chess, because of that mental game you have to play. You have to think ahead, be a step ahead always."
She reveals that her patience, resilience, and perseverance have helped her grow and are integral to fencing. " I've definitely found that as I grow I've been more confident as I work through my weaknesses."
She continues to have a positive outlook, "Even you lose the point; even if you lose a couple of points. You can always come back, you can always win it."
Using the positive mindset she has acquired from fencing, Patel tackles school and it's stress, looking at the broader picture in order to meet her goals. "One bad grade or two are not going to affect you. Just keep on going through hard times. There will always be an end."
Diya looks to embrace and continue fencing in the future. She plans to work hard and fulfill her big aspirations. "I hope to go to a college with a good fencing program up north and potentially the Olympics after that."
——————————————
Swords of Myth and Legend
Swords don't only have names in fantasy novels. Check out these real life legendary swords!
Samurai Marumasu Blades
These blades were made by a legendary swordsmith during the 14th century AD. It was said that these blades were cursed and would "possess" their wielders causing them to go berserk. Due to its bad reputation the blades fell out of popularity, only a few remain today.
Curtana
An ancient sword in the 11th century CE. It is now located in the U.K. This was a steel sword used to crown the Kings of France.
Swords of Saints and Cosmas and Damian
This sword was created in the late 10th century CE. It is made of gold and silver filigree. It is said to be a gift from Roman Emperor. The sword was used in combat by the late kings of Germany, later being decorated to commemorate the sacrifice of the saints of Essen.
The Sword of Goujian
The Sword of Goujian was made out of bronze in 403 BCE. It is now located in Hubei, China. It is one of the ancient words that remained in excellent condition. The sword is said to have been used in combat for many wars The sword is said to have defied time as it is more than 2000 years old but remains sharp enough to do damage today.
Nebra Sky Disk Swords
These are twin swords of bronze and copper made in the 1600 BCE. The Sky Disk Swords are engraved with gold celestial symbols. It is unknown if their use was during battle or for ritual purposes.
Riya Kar, Contributing Writer
Freshman Riya Kar is a first-year contributing writer. Besides playing tennis and baking, Riya enjoys hiking and playing the piano and guitar. Her eye for photography and design contributes to the Bugle's design and layout.