Junior Leadership in Lacrosse
Women's lacrosse is one of the sports at Bolles that does not get a lot of recognition despite winning the district championship in 2017, "but also not a lot of people come to our games so we don't really get the hype," junior Isabelle Gurtler said. Gurtler joined the Bolles lacrosse team in 6th grade and started playing for the high school in 7th. Some virtues she has gained are her ability to manage time better and "make new friends that I wouldn't be friends with otherwise."
This year, Lindsey Blisko ('22) became the team captain for the school team. Blisko has one main goal this season. She wants "all of us to just gel together faster than we used to and just see an overall increase in our accuracy on the major skills." She is in her 10th season playing lacrosse for two clubs: Ponte Vedra's club and Beaches Lacrosse. This is also her sixth year for Bolles.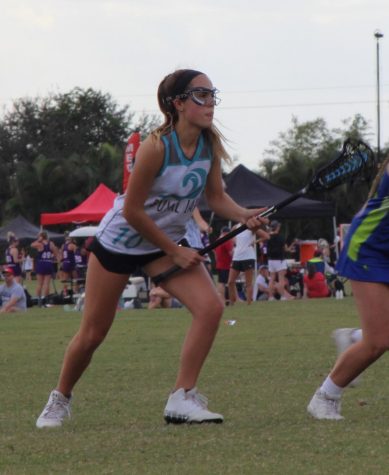 Being the team captain comes with great responsibility and leadership but Blisko already knows how since she was the captain on the JV cheer team freshman year. Her main goal is keeping her teammates encouraged and leading by example. When there are times they are losing she reminds them they can still come back. "It's just reminding them, we've done this before we can do it again," she said.
However, Ridhi Harmani (22') is not a six-year lacrosse player but has been playing for three, and "it just stuck," she said. She has been a part of the Bolles lacrosse team for 3 years, playing in the attacking position, and has loved every part of it. She especially loves the relationships she has gained through this sport. Ridhi said, "I think that's what makes us really special as a team. We just all think the same way."
To prepare for games, Harmani hangs out with some teammates and eats a healthy meal. "The better you eat the better performance you'll have in a game," she said. Doing this helps her have a good mindset going into the game so she feels less pressure and stress. In high-pressure environments, she likes to tell herself "when you make a mistake you should acknowledge it and make sure you don't do it again and then get over it."
"
I think that's what makes us really special as a team. We just all think the same way."
— Ridhi Harmani
Along with leadership opportunities for Blisko, this sport is also her way of expressing emotions. "If I get a test grade I didn't want or I get an assignment I'm not excited about or anything like that I take it all out on the field," she explained. "It's my escape from the school day."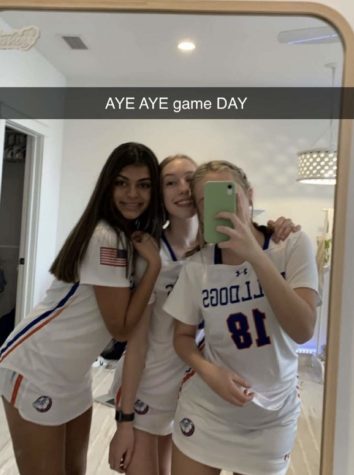 Gurtler also likes to use this sport as a way to release emotions that may be cooped inside during the day. She said, "you can get angry I guess and a lot of that aggression comes out." Her aggression also factors in high-pressure games. Even if she doesn't calm down "it's such a fast game that you don't have the time to realize there's a lot of pressure. You just go, and then it's over," she explained.
Ridhi's mindset with handling tough scenarios in games plays a great role with her being a junior on the team. Even though the team is very close, she also knows the younger players are the future of Bolles lacrosse and wants to teach them what they know so they can carry it on. She said, "I feel like we're pretty close but there also comes a sense where like, we're upperclassmen now and it kinda comes with a responsibility."
The team has bonded extremely close especially those who have been together since middle school. "Even the new people are kinda absorbed into it," Isabelle said.
With the strength and intelligence of these three junior leaders, the female lacrosse season is heading in a great direction. The season has just begun and this team has a long journey ahead of them.
Elliana Emery, Contributing Writer
Senior Elliana Emery is a second-year staff writer and Belieber (Justin Bieber fan). She has been a fan of Bieber for 11 years and counting, which contributes to her love and knowledge of music. Elliana love for writing and English makes her a wonderful addition to the Bugle staff this year.