Crewsing into College: Avery Goldknopf Reflects on her Crew Experience
"I feel like a lot of people just don't know anything about crew at all and I wish everyone who saw it knew how much actually goes into making the boats move. It takes a lot of perfection."
Our senior reflects on her high school rowing experience as it launches her into the next chapter in her life.
Avery Goldknopf '23, is a coxswain for the Bolles Rowing team. In her position, she is responsible for steering around obstacles, navigating, and directing the rowers in the boat. She faces towards the bow of the boat and must be aware of the wind currents. Alas, she is also responsible for docking, which Goldknopf admits is her least favorite component of the sport.
"You could be a good coxswain and be bad at docking. It does not have to have any effect on your ability but it's just something that you have to do. It gets kind of annoying," Goldknopf said.
"It doesn't matter if you're a girl or a boy, it doesn't matter if you're green, you still have a place on the team"

— Avery Goldknopf
Despite the miniscule margin of error that docking allows and the many things that can go wrong, Goldknopf has had lots of time to improve.
Goldknopf joined rowing when she was in sixth grade. She immediately showed promise and undeniably had talent which placed her on the varsity team her first year.
The reflecting senior shares that her early placement on the varsity team gave her an advantage going through her high school career as a student athlete, which has allowed her to balance school and crew without struggle.
"I've gone through my workload and my crew load and it's kind of progressed together, and I think that definitely helped me," she said.
Early on, Goldknopf decided she wanted to be recruited for crew to continue her rowing through college. Her college recruitment process was an incredibly time-consuming process as it is for most sports.
Goldknopf feels that the college recruitment process for crew especially, requires a copious amount of reaching out and advertising yourself.
"You have to really put yourself out there, otherwise you won't be noticed or seen," she says.
For rowing, July 15th is the important day where coaches from colleges can begin to reach out to you. After her sophomore year, Goldknopf became informed about this crucial day.
"I actually didn't know about it. I didn't know it was an important thing but I was at a national team camp and one of my friends who was older than me and who was a coxswain said 'It's July 14th- are you ready??' ".
Her friend was able to guide Goldknopf through the process and explained what coaches would be looking for and what to send out first. The questionnaires she filled out included everything from her hobbies to her rowing stats.
Goldknopf said, "I think I started off with like 50 questionnaires and I wrote about 20 emails and I probably got 30 response emails and I'd say from when I started I probably spent close to 20 hours with my first draft of sending people information."
All of the hours that she poured into this process became well worth it when she committed to Clemson for Crew.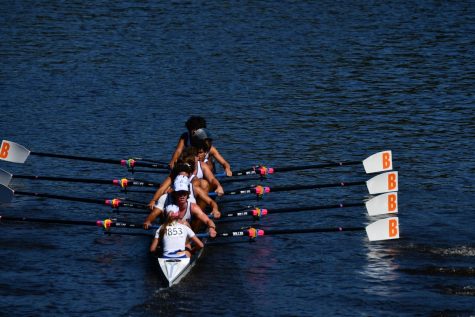 Now, the senior is most looking forward to the athletic program at her future college and while she will miss her team that is inclusive and well spirited, she, of course, is proud to embark on the opportunity she has made for herself.
"I'm really excited just to go there and reap the rewards of all my hard work because I've spent a lot of hours getting better."
Isabel Schimpff, Coffeehouse Editor
Isabel Schimpff is a junior, third-year staffer and this year's Coffeehouse editor. She enjoys traveling with CISV, going to the ceramics studio, and getting ice cream with her friends. Her goal for this year is to get ahead of her deadlines and is proud of her interview skills. A fun fact about Isabel is that her favorite animal is a platypus.