Espresso Yourself a Latte!
The sights and sounds of Starbucks start with the rich smell of coffee beans enlivening the area, drawing people in for miles.
At 8 a.m. and after 3:15 p.m., Starbucks can be seen filled with orange and blue t-shirts. Most tables are taken up by textbooks, notebooks, novels, and of course the everpresent Starbucks cup.
The sound of chatter is heard across the shop between interviews, conversations, and Whitehurst kids ordering their own drinks. Baristas constantly field much too complex orders from students, while staying attentive and cheery.
Girls sip their strawberry acai refresher (with no strawberries), and teachers drink their lattes with extra shots of espresso. Mr. Hodges comes and orders his "Venti Iced Tea" while catching up with a friend.
And when 4:15 PM comes, the shop empties and the baristas shed a sigh of relief.
Starbucks by the Numbers:
– Money spent (drink and food) in an average lifetime: $203,840.
– Time spent waiting in line: 530.8333 days.
– Venti Straw length: 22,082.66 feet (15 times the Empire State Building).
Just as our ancestors once crawled on Earth and evolved into advanced humans, we, too, begin our Starbucks evolution, from the primitive tall hot chocolate, to the Caffeinus Sapiens, the trenta with an extra shot of sophistication.
Starbucks can be a habit and obsession. In one week, over 50 Starbucks cups were spotted around campus. Starbucks drinkers, Sophia Mitchell '21, Olivia Janse Van Rensburg '24, and Ms. Mendelson ranked their liking an eight to a ten.
For many people, Starbucks is a gateway to happiness; Van Rensburg described it as "a reward after getting up early." For others, it's an outlet of productivity, or "a place where I can focus," Mitchell said. But Starbucks can brighten one's day, just by the purchase of a favorite drink. For Mendelson, this is the iced tea. "I feel so happy and refreshed."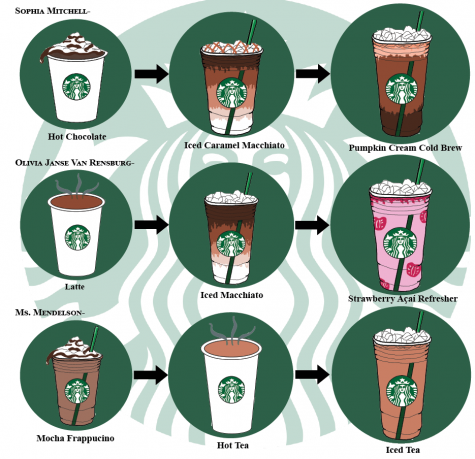 Amber Bansal, Public Relations Editor
Amber Bansal is a sophomore and this year's Public Relations editor. In addition to drawing, baking, and cooking, she loves studying Spanish for its applicability in the real world. She hopes to become a Supreme Court justice in the future and is aware (and proud) of her Starbucks obsession. Her goal for this year is to spotlight and research more local businesses.