Student Council conducts mental health survey
To quantify the effects of the pandemic on the mental health of our school, the Student Council conducted a survey regarding the mental health at Bolles. The anonymous survey, published on the San Jose Students Schoology page, consisted of 11 questions regarding the various aspects of mental health of students.
Questions inquired about the stress level of students at school, home, and during extracurricular activities and jobs, as well as targeting what students thought needed to be addressed to improve their own mental health.
Among the free response answers to the question "What can we do to make you feel less stressed?", students made suggestions regarding improving mental health. Some included:
"Continue to give alternate assessments instead of exams next year."

"Mental health days."

"Review when teachers assign major assignments, so they don't overlap."

"Resources or information about how to become more mentally strong and how to generally improve mental health."

"

Having multiple alternate assessments is stressful, however besides that I am doing really well."

"Be cognizant of the fact that coronavirus has affected everyone differently. Just because everyone seems to be moving forward…the mental trauma of living during 2020 continues to linger."
Mental health has been on Bolles' radar for quite a while. On the Bolles website, web pages such as the Counselor's Corner where guidance counselors, Mrs. Genduso and Mrs. Cussen, post weekly regarding articles on mental health and a suicide and mental issue Concern Line promote positive mental health. 
Mrs. Genduso elaborated on the tasks of the guidance counselor's office, stating that it addresses student concerns with mental health on campus, talks personally with students willing to share their emotional stress, collaborates with faculty and parents, and maintains the Reflection Room for students unwilling to converse about their problems. 
The most commonly used resource is the peer referral in which a student may have concerns about the mental health of another fellow student, as well as the Reflection Room which is used "about 6-12 times a week," Genduso said.
Other resources come from Bolles students and teachers. Mrs. Clubb, a mental health advocate and sponsor of the Mental Health Club, teaches students in her class how to place a "spotlight on mental health issues." In the past, the Mental Health Club also encouraged conversation regarding mental wellness through a "lunch and learn" event with a doctor. 
While resources are available, an expansion of resources is a topic on the table. Mrs. Clubb urges for "students to receive an opportunity to train in suicide prevention," among the other endeavors of the Mental Health Club. 
With a total of 127 responses, the survey painted a picture of the mental health at Bolles. The Bugle would like to highlight a few aspects of the survey. 
See below for an infograph depicting the survey's results.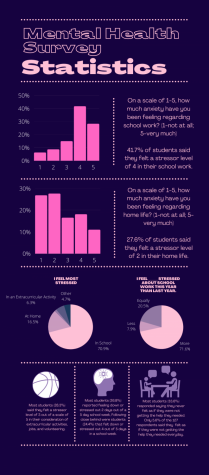 Su Ertekin-Taner, Co-Editor-in-Chief
Su Ertekin-Taner is a senior and this year's Co-Editor-in-Chief of the Bugle. A poet, singer, and enjoyer of watching old rom-coms, she hopes to help staffers find their personal voices in their writing. In the future, she strives to write a book and aims to study journalism, political science, or English in college.