Scouting throughout the East Coast
"I tried a bunch of activities and then kind of just got to pick the ones I like. So that's kind of how my mom started me in ballet and hip hop and then I kind of just stuck with it and kept expanding and expanding."
This summer, Anjali Gusani ('25) moved from Hershey, Pennsylvania to Jacksonville, Florida. With her, she brought many passions and hobbies from the dance to Boy Scouts and anything in between.
Gusani has been dancing since she was six years old and is currently in Dance Company at Bolles. Since her dancing career she has discovered another passion of hers; Boy Scouts, which she has participated in for the past year and half.
"They recently, I think it was 2019, let girls join. And so I joined because I felt like it was more involved and they do a lot more adventure stuff."
Gusani doesn't consider herself an adventurous person, but she was intrigued by the idea of learning about skills that would only be practical in the wild. She's grown to appreciate the wildlife that is around her in her new town.
"And before I moved here, I kind of wasn't really a beach person. I would go once or twice a year and that would be good enough for me. So I'm learning to appreciate the beach more."
During Gusani's time camping and being around the wildlife in Florida she has come to the conclusion that "it's definitely really hot and humid." In regards with wildlife she shares an experience of hers with a creature common to Flroidians.
"There's so much that comes with having like, the water near you like different wildlife like, for example, the lizard on the ground you probably don't even think about them. But when I walked into my driveway for the first time. I saw a lizard and I freaked out because I don't do well with little critters, even though I've gone camping but yeah, now I'm getting used to the lizards too."
Even though it was hard for her to find a Boy Scout troop that would accept her…with her being a girl she eventually found one that's a thirty minute drive from her house (without traffic).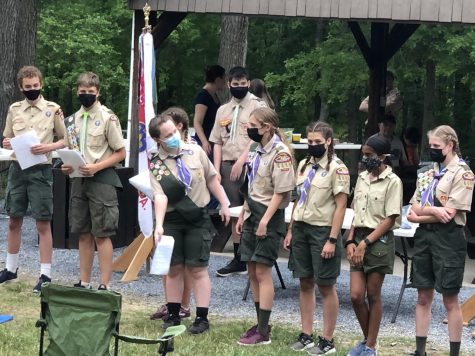 She believes it's completely worth it to make that journey into one of her hobbies that she loves.
"So that was kind of my COVID hobby. When school was basically a joke. I was doing a bunch of merit badges…And so I worked pretty hard to get as many as I could in that time. And I also worked hard to move up through the ranks. So hopefully, if everything goes to plan, I should get my Eagle Scout which is like the highest rank in a year," says Gusani.
Gusani seems to have adjusted well to the Florida climate and is continuing to get used to the wildlife around her.
All in all she says, "it's definitely an adjustment but I think it's definitely happening and it'll be good in the long run."
Caylee Padgett, Contributing Writer
Caylee Padgett is a sophomore and first-year staffer. She is active in track and field (javelin), robotics, and crocheting, and enjoys reading and writing. A fan of the works of Stephen King, Caylee is proud of her ability to analyze and think more than most people. In the future, she strives to study medicine and political science and hopes to become a politician who makes a difference in the world for the better.