Quick Recs: March-April
Hamantaschen for Ukraine – Atticus Dickson
Persia, 479 BCE. Haman, the advisor of the ruthless King Ahashverosh, has a plan to destroy all the Jews of Persia. To celebrate the survival of the Jewish people, each year, Ashkenazi Jews make a specific type of cookie, called hamantaschen, translating to "Haman's Pockets" because they are filled cookies (pockets).
Although not all cookies have a story, we use them to celebrate a holiday during which we make fun of the bozo (L+ratio+get hanged on the gallows you created to kill our people+stupid hat) who tried to kill us and are, according to legend, shaped after a stupid hat that he had.
This story, although it is about the Jews of Persia, still serves as an apt metaphor for oppressed and attacked peoples worldwide. However, it is especially similar to the plight of the Ukrainian people. A people attacked by a selfish madman who miraculously survive (knock on wood).
These similarities have prompted some, including 1748 Bakehouse, a local Jacksonville bakery, to join a movement on social media called #hamantaschenforukraine. To participate, bakers bake hamantaschen, and if they own a bakery, sell them and donate the profits to Ukrainian relief efforts.
The recipe the Bugle used to participate is linked here.
---
French Novelty Produces PR – Aisha Hasan
F rench Novelty, established in 1911 and located in the Cedar Hills Shopping Center on Blanding Blvd, opens its doors each year to the prom rush. And with prom season in full swing, excited, enthusiastic teen girls flood this dress shop in hopes to find the perfect dress to show off at prom.
Outside of providing beautiful dresses, French Novelty offers PR to anyone who asks. "There are some benefits including discounts and referring them to others." revealed Kennedy Cole '23. Kennedy Cole first heard of French Novelty from a family member and went to find her dress.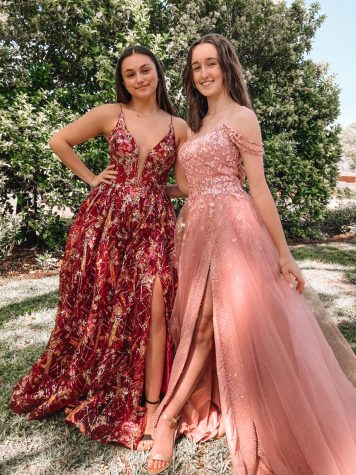 After Cole emailed French Novelty, the PR representative reached out to Cole for an initial headshot and to meet. "They wanted to get my headshot but we ended up getting too caught up in taking pictures of the dresses." admitted Cole. In the near future, French Novelty plans to invite all the PR girls to take official pictures. "Most of the girls have brought dresses from French Novelty or have some experience modeling." Cole explained.
French Novelty mainly displays their PR on their Instagram account, @frenchnovelty. "They post pretty regularly, with a PR rep highlight story." Cole noted. Many girls look through the account for inspiration, with the intention of finding a dress style that they love.
Kennedy Cole plans to continue to PR for French Novelty in her senior year. "There's no negative energy or judgement and when you try on a dress everyone is always hyping you up." exclaimed Kennedy Cole.
---
Rethreaded: Renewing, Reigniting, and Releasing  – Isabel Schimpff
"We provide long-term employment coupled with mental health services," Stephine Patton, the assistant manager of business development at Rethreaded, said.
The organization's upcycling program repurposes materials such as cotton t-shirts and leather airline seats into journals, purses, jewelry, accessories, and other gifts, which are then sold in Rethreaded's retail space and provides employment for survivors of human trafficking.
"The women that come and work at Rethreaded are generally dealing with complex traumas such as PTSD," Patton said. "So, therapy is something that is super important to have."
Individual therapy, group therapy, and case management are just some of the mental health services offered in their developmental program.
Rethreaded also goes a step above basic mental health assistance and offers classes like "Dress for Success", where they teach women how to take care of their bodies, shop on a budget, and make crockpot meals. Training with Google, calendar, and management are offered as well.
There are about 50 women on staff in the developmental program. Their job primarily consists of converting materials into merchandise, which is sold for between eight to 300 dollars.
All of these women working at Rethreaded have a powerful story and have the passion to create change. When asked if there was a story that motivated her, Patton responded, "Yes, I think about my own story."
"I came to Rethreaded through their Survival Development Program," Patton said. "I left the life [of being trafficked] in May 2016 and last October I was actually awarded Survivor Advocate of the Year for the state of Florida."
Around the globe, in Tennessee, Bangladesh, San Jose, Haiti, Ethiopia, and the Himalayas, Rethreaded also has many "freedom partners" which are bigger trade organizations with the same mission.
For Bolles students, the opportunity to get involved is local. You can volunteer on Thursdays, attend their events, or donate 100% cotton t-shirts. If you are over eighteen and free on Thursdays from 1:30-4:30, head over to the Springfield location and volunteer for Rethreaded, helping an organization that works to renew hope, reignite dreams, and release potential survivors of human trafficking.
---
North Florida Poetry Hub: Promoting the art of poetry – Sara Wasserman
"But when the pandemic hit, you know, everybody was at home. There wasn't a whole lot to do. And so I started talking about maybe doing online workshops, and I just kind of got real interested in doing things and taking care of it. And so we decided that I would take over and I just love it." explained Ruth Van Alstine, the president of the North Florida Poetry Hub, who describes her position as a very positive thing to focus on during that time of uncertainty.
The North Florida Poetry Hub (NFPH) was founded by the local nonprofit, Hope at Hand, an organization that, as their mission statement explains, provides art and poetry sessions to vulnerable and at-risk youth populations. With a goal to increase public appreciation and recognition of poetry, they share the art in various ways, such as hosting free online poetry workshops and sharing their poems with nursing home residents.
"This is the coffee shop that's online," remarked Van Alstine.
The NFPH also just hosted a youth poetry contest. What originally started as a way to allow NFPH members to show off their work turned into a showcase that drew a crowd of 40-50 people.
"I wanted to have an audience so we wouldn't just be, you know, the 10 or so of us just sitting around admiring ourselves," explained Van Alstine.
The event was a great way for poets of all ages to exhibit their best work.
"I was really happy to see my poets be able to have their little time in the spotlight," said Van Alstine.
The NFPH is an international organization with members outside of the US. Van Alstine describes the impact that the organization has across the world.
"What I do influences people all over the world, even my little small part of it. So it's great, and I feel very fulfilled."
---
The Dreamette: Keeping the dream alive – Alex Boutwell
With 30 different toppings, The Dreamette's real diversity is in what you put on the ice cream. Rather than simply having a favorite flavor, it changes the question into what your favorite combination is, rather. "It's more of a combination rather than a flavor," Johnny Nettles' favorite combination is "Vanilla with hot fudge and walnuts". Mrs.Nettles' favorite combination is "chocolate with strawberries on the top and the bottom".
In addition to Springfeild and Aberdeen, A new location of The Dreamette ice cream shop opened in San Marco, Jacksonville. Unlike its original location in Murray Hill, it accepts credit and debit. The original location opened in 1948, and is still in business today. It is walk up, and only accepts cash.
Johnny Nettles, Mrs.Nettles brother-in-law, bought the business in 2008 after retiring from working with the police. In 13 years, he has tripled the business' profits, all while keeping it traditional. Having only three flavors, vanilla, chocolate, and strawberry, its basic formula is one of its charms. No drastic changes have been added, and yet the traditional business structure still brings in new customers.
Some of the most popular orders are the honeymoon shake, as well as their banana split. Nettles says the same people have been coming for years and years, ordering their usual honeymoon shake. The honeymoon shake is a pina colada shake, which, like most of the menu, has been available since opening. The charm of The Dreamette, complementing its wonderful soft serve, is its classic atmosphere.