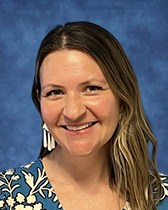 "I did my first class in education and loved it! I thought, oh, this is exactly what I'm supposed to do."
Emily Edmonson is ecstatic to be the newest member of the Bolles History department.
The caring and bubbly teacher realized that education was her future thanks to her Modern Middle East class at Oklahoma Baptist University.
"We were tasked with giving our community a presentation about the Middle East, specifically centered on misconceptions and how we might educate people because I was going to college during the war in Iraq," said Edmondson. "My friends then gave me this feedback about how much they learned and how exciting it was, and they could tell it was my passion to teach history."
At that time, Edmonson was already getting her masters in History with a minor in German, but this moment piqued her interest in education and inspired her to get her masters in education.
"I had always loved working with students, and I wondered if that was something I could actually make a career out of."
Edmonson ended up doing just that. She got her first teaching job in Richmond, Virginia, and has spent the last few years teaching at The Episcopal School of Jacksonville, for a total of a thirteen-year teaching career.
The reputation Bolles has in the community, along with the existing connections Edmonson had with the history department, was key in motivating her to join the Bulldog family.
She now teaches US History and AP Human Geography. She loves both classes and has a hard time picking a favorite. However, she feels teaching Human Geography has brought her education and teaching full circle.
"I've taught history for longer, so I feel more familiar with that content," explained Edmonson, "but I started my teaching career in geography and rural cultures, so it's like coming back."
The new addition to the Bolles community has found that her favorite part of campus is the students and the other teachers in the history department. Schoology, however, has been the hardest to master, and the rotating schedule needs some getting used to.
Edmonson wants to get across to her students that she is always willing to help students work through material and other problems that arise.
"I want them to know that I am very approachable and willing to help any student who needs the help."
Having gone through a medical event when she was in high school, she is even more sympathetic with her students who go through similar experiences. She recognizes that events happen in people's lives that they have no control over or ability to predict, so it's imperative to be kind and patient with people.
Edmonson puts additional effort into preparing her class for the benefit of her students. 
"I'm very thoughtful and intentional in the way that I structure and plan our takeaways. There's a lot of intentionality that goes into the course". 
She adds this extra thought in hopes that her students will see the relevance of her History and Human Geography classes. Edmonson recognizes the importance in the way stories are told and how we remember things today, and she aims for her students to acknowledge it too.